As I catapulted off the runway of San Francisco International Airport this morning, a kid in the row across from me shouted "WOW! THIS IS JUST LIKE ANGRY BIRDS!"
This was good for a laugh, which I desperately needed. Because as we were taking off at 10:10am, I knew that I'd be missing out on all the cool stuff happening back on the ground in San Francisco's Moscone Center. It was there that Tim Cook would be taking the stage to introduce some of the cool new stuff that Apple had been working on, and I was going to miss it.
After landing in Seattle, I drove 2-1/2 hours, went to work until 7:30pm, then (finally) made it home so I could plop in front of the television and watch the Apple WWDC Keynote stream from my iPad to my Apple TV box. What follows is the deranged ramblings of a Certified Apple Whore, so proceed at your own peril...

• WELCOME
The Siri intro was pretty darn funny. Tim Cook was suitably channeling his inner Steve Jobs. The crowd was enthusiastic and the energy in the room was high. Then Tim ran through the astounding numbers touting the unprecedented success of the company and its products. After that, it was time for one of those heartwarming videos that Apple does so well... informative and inspiring without being sappy or tacky. And then? Off to what people really want to see.

• MACBOOKS
I need a new laptop to replace my aging, banged-up MacBook Pro, so I was understandably excited when Phil Schiller took the stage. I wanted so badly to have a machine with the power and 15-inch screen-size of a MacBook Pro, but the thinner form, lower weight, and fantastic SOLID STATE HARD DRIVE from the MacBook Air. At first, I didn't think I was going to get it, because Phil just rambled off expected bumps in speed and features for the existing models. But then something happened...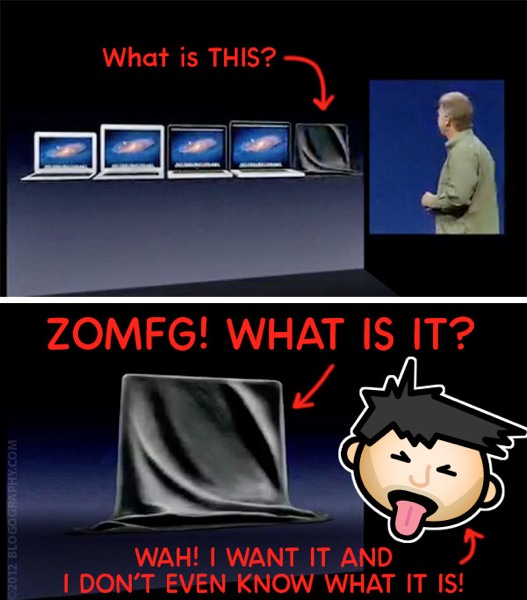 Introducing the MacBook Pro with Retina Display... AND ALL THE STUFF I WANTED IN A NEW LAPTOP! Thinner? Lighter? Faster? Quieter? SOLID STATE HARD DRIVE?!? Yes please. I am now officially poor, as there was no way I could pass up on something that will save me a lot of time, money, and agony when trying to work while on the road...

• MAC OS X - MOUNTAIN LION
Call me jaded, but it seems as though innovation is coming a lot slower to Apple's desktop products than their mobile products. In fact, the features shown for OS X that interest me most were those that make it easier to go from my laptop to my iOS mobile devices. Where are the compelling new OS X features that are redefining the non-mobile user experience? I dunno. Instead we get tighter integration with Twitter and Facebook. Whee. Don't get me wrong, any improvements or new features are appreciated)... especially for a jaw-dropping $20 price tag... but come on. This was kinda lame. Especially when you take a look at what Microsoft is up to for their next OS.

• iOS 6
Uhhh... yeah... it all sounds great. BUT I HAVE TO WAIT UNTIL THIS FALL?!? I'm assuming that this release date will coincide with the release of a new iPhone, but sheesh.
In any event, the new features really do sound great. The new maps look fantastic (and apparently the data is served up by TomTom, so they're be functional too!). Siri just keeps getting better. FaceTime over cellular and Mail "pull-to-refresh" are long overdue. Passbook is going a long way towards helping people lighten their wallet. The new integration with Twitter and Facebook is nifty. And the Accessibility enhancements are GOLDEN when configuring iOS products for non-techies.
BUT WHAT ABOUT THE "PHONE" PART OF iPHONE?!?
I still think it is embarrassing (and fucking stupid) that there's no auto-redial on my iPhone. WHY?!? Why in the hell would such an obvious and useful feature keep getting the shaft at Apple? Insanity! But at least they are addressing my long-standing complaints regarding having some control over your incoming calls. They call it "Do Not Disturb"...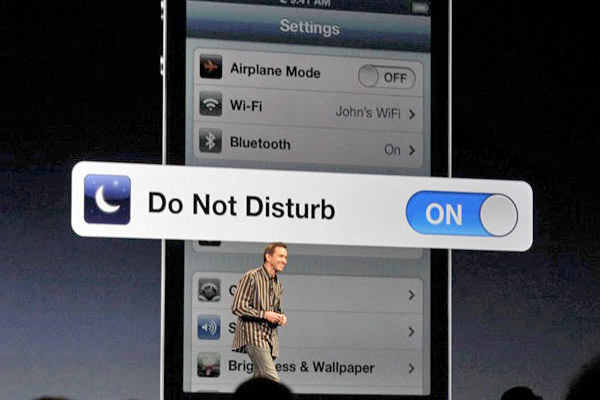 FINALLY... AT LONG LAST... I will be able to block unimportant calls and mute non-essential notifications when I don't want to deal with the shit. LIKE WHEN I'M SLEEPING! And, from what I can see, it looks pretty smart. Apparently you can one-touch do not disturb AND have an automatic do not disturb schedule going... hopefully both at the same time.
And that's all she wrote. No new iPhone... yet. No new desktop Macs... yet. No new iToast... yet.
I guess there's always next year.