Time to check your bandwidth, because a special All Video Edition of Bullet Sunday starts... now...

• Punisher! President Obama once again killed it at the White House Correspondents' Dinner. I didn't think he could top his awesome performance last year, but he came really close. Except... was I the only one who kept seeing a skull shape when his shirt was eclipsed by the microphones? At first I thought that it was proof positive that he was, in fact, not a Secret Muslim... but instead a Secret Satan Worshipper! And then... then... it came to me. it's not Satan... it's The Punisher!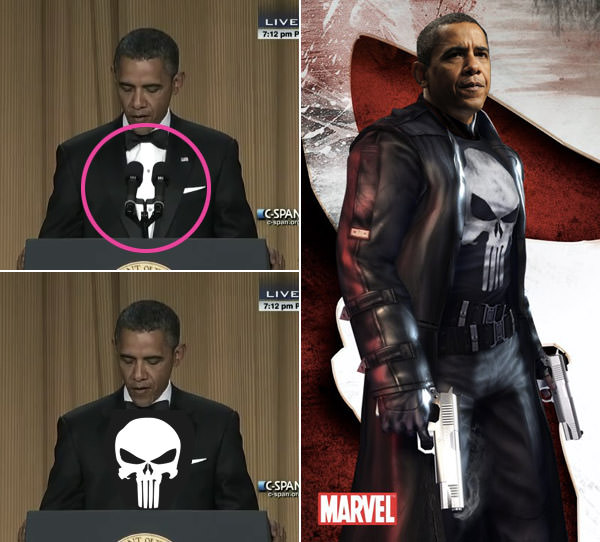 If only.
I may not always agree with his politics, but I really do like our president. He's a good guy doing a tough job the best way he knows how... all while under constant attack by people who have no respect for his office or our country. If you haven't seen his speech, it's pretty damn funny and well worth watching...

• Election! I don't think there's any question that Mitt Romney will most definitely not be getting my vote. What is in question is whether or not President Obama will get my vote. Right now, I honestly don't know. If he starts caving on things like CISPA and equality, I have no problem with a write-in vote like I've done before when both candidates suck. Otherwise, it's kind of his vote to lose. All that being said, I am kind of enjoying Obama's latest round of ads: "Mitt Romney vs. Reality" where he takes his old footage to address Romney's bullshit pandering. Genius. Romney comes off looking either uninformed or a liar, while Obama dings him without going negative...
It will be interesting to see where Romney's campaign goes now that he's running for president instead of candidacy. Because, I gotta say, his ads always seem more embarrassing than informative or compelling. The guy is so awkward and detached that his every appearance seems to be a reason why he shouldn't be president. He needs an ad team that can work this out... fast.

• Houdini! I stopped watching MTV a long time ago. They used to be all about music, but now all they give a crap about is stupid shit like Jersey Shore which I wouldn't watch if my life depended on it. The upshot being that I don't see many music videos anymore. Not that it's a big loss... most music videos suck ass these days. But I do follow Foster the People, and their latest video for my favorite song (Houdini) off their last album (Torches) is really good...
Creative, funny, well-executed, and fitting to the song. Doesn't get much better than that.

• Old! A year ago, somebody asked a question that has been burning up the internet this past week... "What are the Windows A: and B: drives used for?" Since I was around when computers went consumer mainstream, I remember all too well about things like modems, data cassettes, BBSs, and yes... floppy disks for your A: and/or B: drive. I also remember VHS tape, Pong, record players, and... heaven help me... rotary telephones...>
It's not that I feel particularly old over it all... the technological advances over the past 30 years have been astoundingly fast... it's what we're in for over the next 30 years. Just as the iPhone bears -zero- resemblance to the rotary phone, I'd imagine the "phone" of the future will be an even bigger departure from iPhone. It's at that point that I really start to feel my age. Oh well. I honestly think that the limitations that my generation had to put up with from technology made it more fun than the sheer magic we get from technology today, so there's that*.

• Ridley! When it comes to movies this year, I'd have thought it would be impossible to top my excitement for The Avengers, but Ridley Scott's offering, Prometheus, does exactly that. The new international trailer has me aching for a good science fiction movie...
June 8th can't get here fast enough.

And now I suppose it's time to put away YouTube so I can get some real work done.
*Oh who am I kidding? I would have killed to have had an iPhone back in the 80's, and everybody knows it.