This is one of those times where every cent of my paycheck was already spoken for.
Which would usually be upsetting, but it's a direct result of spending a week goofing off in Europe after having just gotten back from two weeks vacation, so I'm perfectly okay with it.
Even so, you can imagine my excitement as I was rearranging books on my shelves only to have a 1000 Korean Won note fell to the floor. It had apparently been used as a bookmark. Or maybe I just stuck it between some books because it was pretty and I wanted to flatten it out for a souvenir...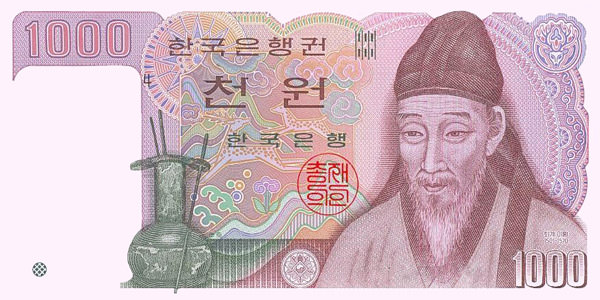 However it got there, the only thing running through my mind now was... MONEY!
But how much? Maybe $20... probably more like $10... but wouldn't it be cool if it was $100? I had no idea, so I rushed to fire up a currency conversion app on my iPhone.
Only to discover that 1000 Won is 89¢ in US money. Which, coincidentally enough, is almost exactly the same as when I was last in Seoul back in September 2004. That's not as good as the $1.10 I would have gotten in November of 2007... but certainly not as bad as the 64¢ I would have got back in March of 2009.
In any event, whether it's $1.10 or 89¢ or 64¢, that doesn't do much for my cash on hand. Especially once exchange fees are paid.
Thank heavens for credit cards, because it's time to shop.
With the exception of grocery stores, it's getting to the point where I rarely shop at brick-n-mortar stores any more. Everything I need to buy is purchased off the internets. But I got a $10 coupon back when I paid for my eye exam at Shopko (where everything is always on sale!) and it's expiring today, so I decided to stop in and see if I could spend the $50 required to use my coupon. Sure I'm poor just now, but you gotta spend money to save money!
I ended up buying new bed sheets (on sale!) and a PUR water filtration pitcher (on sale!). This was just enough to get my $10 savings, so I was pretty happy.
Until...
Just for kicks, I checked pricing when I got home... only to find that even with the $10 coupon, I ended up paying $1.30 more than if I had bought online (and that includes shipping!). Add in money for gas and my time and I definitely lost-out on the deal.
Oh well. Live and learn.
But I'm pretty sure I learned that already.