What a wacky day!
3:00am
I was hoping that staying up until 11:00 last night would mean I'd sleep until my alarm went off at 3:30 this morning. This was, of course, the wishful thinking of a chronic insomniac. Wide awake at 3:00am. Apparently anything more than four hours sleep will have to stay a dream... a short but wonderful dream.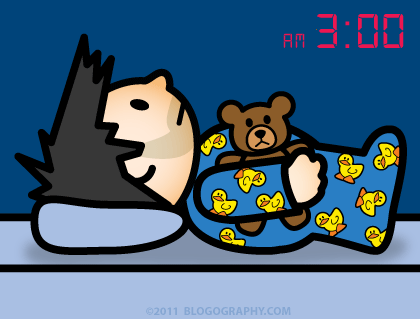 3:25am
Shower. Get dressed. Pack up my crap. Check my email for flight cancellations (for the third time this morning). Then stare at the clock until 3:50am when I head off to the airport.
4:20am
Arrive at the airport, which won't open for ten minutes. Wasn't stopped by the police for accidental speeding, which is always a plus. Now I'm bored. Bored. Bored. Bored. I surf the internet on my iPhone for twenty minutes to pass the time, then look up to see this: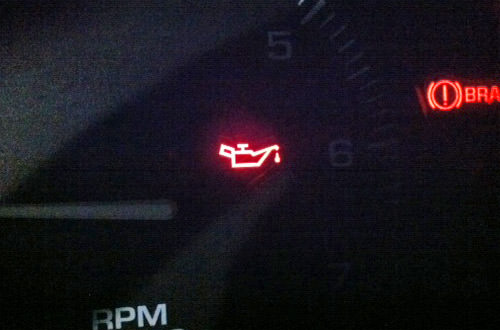 Since I just added oil last weekend, I can only guess my car is burning oil like a muthertrucker. Yay! I totally have a pile of money back home just waiting to throw at an auto mechanic!
4:45am
The security screening agent asks me if I want to remove my sweatshirt or go for the pat-down. I explain that it's a bit too early for me to have been drinking, so I'll pass on the pat-down and strip off my hoodie. He seems a little too relieved. I'm offended because I am totally grope-worthy this morning! Since I buzzed my head, every day is a good hair day right here! Now I sit and wait to see if my flight will be cancelled because of "mechanical difficulties"... for the third time in a row (=cough= BULLSHIT! =cough=).
5:35am
Oh my dear and fluffy Lord, we're actually boarding the plane! The cabin attendant announces that the weather in Seattle is currently clear, but clouds with a light rain will be moving in later this morning and is "projected to last until July 5th." This gets him a courtesy laugh because it is funny for being (mostly) true... but anybody familiar with Seattle already knows this. I stifle the urge to give him a golf clap because I like to encourage smart-assery whenever I can.
5:40am
My name is "David Simmer II" instead of the more common "David Simmer Jr." because my dad didn't want for people to call me "Junior" (as so often happens). I'm guessing this was because he had hoped I'd become rich and famous so he could sponge off the glory that was my his name. But when you think about it, this was a huge risk because what if the opposite happened? What if I instead became an infamous drug addict? Or a serial killer? Or a politician? But luckily (unluckily?) the only meager fame I have is as "That Blography Guy," so my profanity-laden rants on this blog aren't too damaging. Even so, I still get a little excited when I notice somebody else with "II" instead or "Jr." after their name. We're rare, and our dads were notorious risk-takers, so there's a bond there...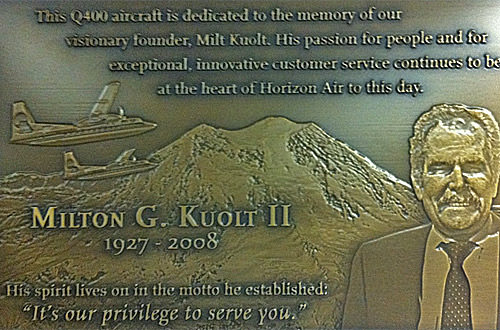 Looks like Milton G. Kuolt II's father totally scored...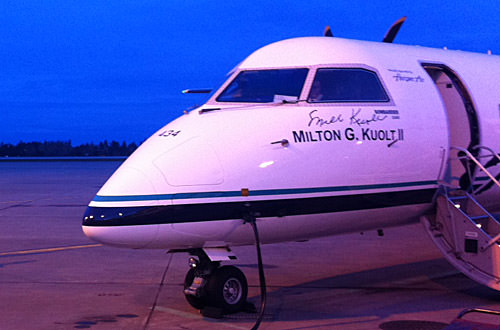 Sorry, dad... if the only way I can get a plane named after me is to start my own airline, I'm afraid you're out of luck... OR ARE YOU?!?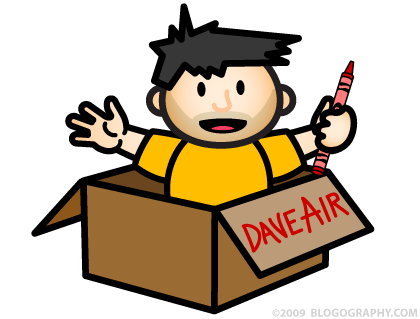 6:30am
Wheeeeeeee!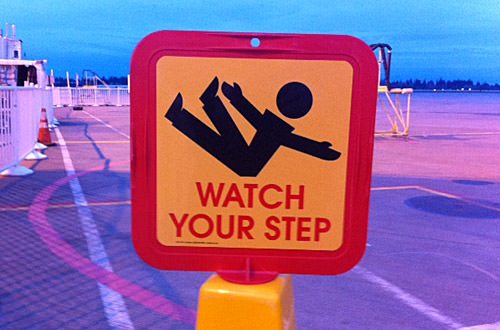 Landed in Seattle after taking off as scheduled. Will wonders never cease.
6:35am
And now I start my four-hour layover. Yes, that sucks, but since the flight I was on is canceled ALL THE TIME, I have to allow enough time to drive over to Seattle in the event of "mechanical difficulties." I briefly contemplate hauling ass to SeaTac's South Satellite to catch an earlier flight for my connection in Salt Lake City. But I only have 15 minutes, and this is SeaTac we're talking about, so I sit down to a Qdoba Egg & Potato breakfast burrito instead...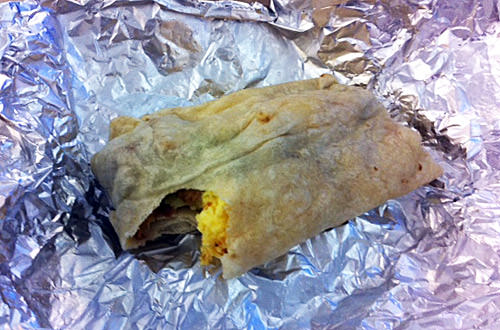 It's like heaven in a foil wrapper, I tell you what.
8:05am
Argh. Screaming kids wherever I go. As if that weren't bad enough, SeaTac is BLASTING this fucking awful music at full volume. So I reach for my... my... HOLY CRAP I'VE FORGOTTEN MY HEADPHONES!!! It's always something. Since this is a common event with me, I go to a kiosk and buy the almost-cheapest ear buds I can find. They're Skullcandy "Smokin' Buds" (HA! a thinly-veiled marijuana reference! How clever is THAT?)... and... they are so bad. The bass is ridiculously harsh and there is precious little definition or clarity, so everything is a muffled mess. I set iTune's equalizer to try and compensate, but the sound is still pretty terrible...
UPDATE: While these ear buds do totally suck for my MacBook Pro, the sound coming from my iPhone with them is actually pretty decent. Still muddy, but at least it feels a little more balanced.
8:35am
Just as I receive an email telling me that my flight out of Seattle has been delayed, my iPhone rings to tell me the same thing. Naturally this screws up my connection in Salt Lake City since I am now arriving 10 minutes after my flight leaves. I wish I could even pretend to be surprised. I'm just lucky that there was room for me on a later flight. And that my First Class upgrade transferred. When I scan my ticket to get a revised boarding card, a "courtesy coupon" spits out... it's a $10 meal voucher. SCORE!! I wonder if Jägermeister would be considered a "meal?"
9:00am
Dear Seattle-Tacoma International Airport,
I'm not shy by any means, but would it fucking kill you to add some privacy screens between the urinals? The damn things are so frickin' close to each other that I worry I might get confused and pee into a neighboring john by mistake...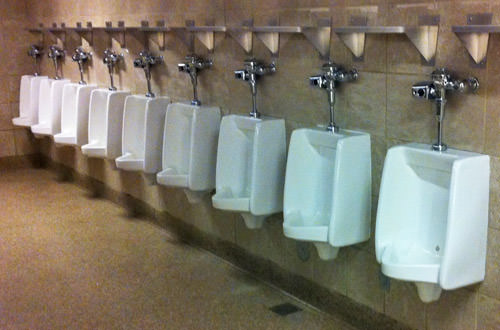 Sounds unlikely, I know, but when you have people using their free meal vouchers to start buying Jäger shots at 9:00 in the morning... well, crazier shit has been known to happen.
9:05am
My flight has just been delayed again. I may die of un-shock. On the plus side, Delta Airlines has set out some drinks and snacks for delayed passengers (something I've never seen before). Circumstances aside, this is pretty darn nice of them.
10:10am
Flight delayed for a third time. I didn't think it was possible for me to be even more un-shocked than I was, but here we are.
11:15am
My flight is finally boarding! For everybody except me. When they scan my boarding pass, they get an error. The gate agent reprints my pass a couple times but to no avail. Finally they just rip it in half and tell me they'll figure it out later. I certainly hope so.
12:50pm
Wondering what's happening with my ticket back in Seattle, I buy 15 minutes of inflight internet for $1.95. When I login to Delta, everything looks okay and my new flight shows up, but who knows? With 10 minutes of internet left, I Tweet pictures and stuff...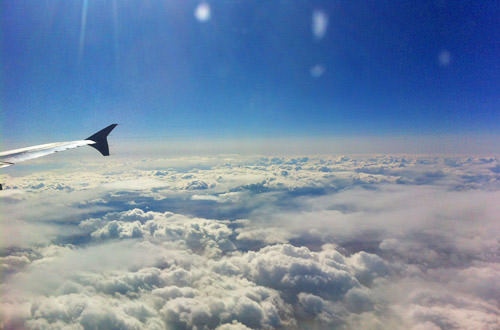 Wheeee! I'm totally flying here!
2:40pm (Mountain Time now)
Arrive in Salt Lake City. My original connecting flight left nearly an hour ago... my new flight doesn't leave for 2 hours and 20 minutes. I need alcohol badly, but settle for some Sun Chips I took from Delta's snack table while I wait to board my now-delayed (SURPRISE!) flight to Kansas City.
7:30pm (Central Time now)
The turbulence is balls-nasty. Either that or we're crashing. As much as I dislike the idea of going down in a ball of flames, I do like the idea of not having to go to work tomorrow. In case we DO crash, here's my plane's last known location. Please send a search party. And beer...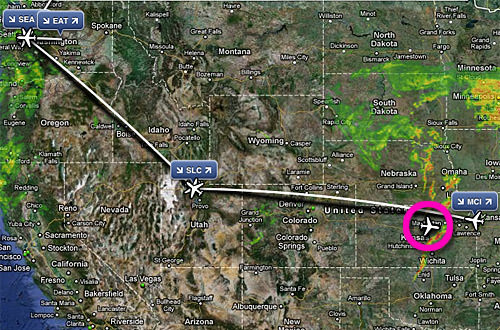 8:30pm
Arrive safely(!) at Kansas City Airport 3-1/2 hours later than planned. Pick up my car. Drive the 40 minutes to downtown. Check into my hotel. Life is good again at last.
10:00pm
Sit in bed finishing up this entry as gusting winds are howling and a torrential flood of rain is pelting my window. It's like a monsoon out there! Looks like I won't be getting any sleep after all now that Armageddon is going on around me. Such a pity.
10:30pm
I finish. Then I click "publish"...