Yesterday's drive over the mountains was about as uneventful as it gets. No snow. No insane people. No terrible motorists. No accidents. No drama. Nothing. Everybody even drove the speed limit! At first I thought that hell might have frozen over... but then I realized that I was just playing the odds. After hundreds of such drives in the past, the stars somehow aligned to give me the stress-free journey I've always dreamed about. Guess I was due...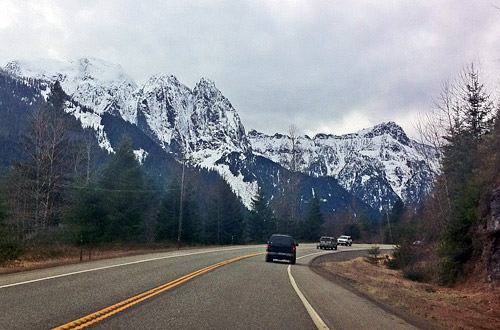 In order to take photos of my road-trips, I modified an old GPS mount to stick my iPhone to the windshield and use a time-lapse app to snap pictures as I drive. That way, I'm not one of these people who can't stay on the road because I'm dicking around with my phone and crashing into people.
There are a few problems with this...
You don't get to choose when the camera takes a photo. I usually set the time-lapse intermission for one minute, which gives me roughly 120 photos for a trip to Seattle, all pretty much random. I've been trying for over a year to get a nice shot of Mt. Index and its three peaks, but the window to get a good shot is very short, so I almost always miss it. When I do get it, the shot is usually bad. Well today I got my first decent shot! You can see it above. One of these days I really need to pull over and photograph it proper, because it's quite stunning for being such a short mountain.
The main purpose of taking time-lapse photos is to create a time-lapse video. The problem is that I always need to pull over and take a phone call or send a text message or play some Angry Birds or something... this screws up the movie because I can never get the phone in the exact same spot in the mount. One day I'll have to ignore my phone during the drive and just do this, because it'd probably be very cool.
My old GPS mount is starting to fall off the window from time to time. Especially in the cold. I've tried cleaning it, but that doesn't seem to work. I'm guessing either the rubber is old or the suction lever has weakened. I wanted to buy another one, but the iPhone-specific mounts all look cheap-ass. Surely I am not the only one wanting to take time-lapse driving videos? Where are the pro-mounts?!? Ah well. Maybe I'll have to find another high-quality GPS mount and see if I can modify it like I did with my current one.
And now... I should probably get back to my glass of Jägermeister. It looks very lonely up there on the table. Staring at me. Demanding I show it some love. Such a demanding drink, it is.