I used to love going to the movies.
I rarely go anymore.
Roger Ebert recently wrote an editorial commentary called "I'll tell you why movie revenue is dropping..." In it, he dissects why people aren't going out to the theater anymore. I thought I'd go through point by point to figure out where I fit in.
Absence of a must-see mass-market movies. Meh. Sure I like the mass-market popcorn movies, but I'm just as entertained by smaller independent films.
Ticket prices are too high. Meh. I honestly don't mind paying a premium to see a movie in the theater on a big screen with great sound.
Refreshment prices. Meh. I don't buy refreshments very often because a movie usually follows going out to dinner and I'm not hungry enough to eat again.
Lack of choice. Meh. There's pretty much always something out there I'd like to see.
Competition from other forms of delivery. Meh. I'd just as soon get out of the house and see a movie when it's released than wait and watch at home.
The theater experience. BINGO! This is the one true reason I fucking HATE going to the theater: other people show up. And they're usually rude assholes that make going to a theater a horrible, horrible experience.
I remember several years ago... like ten years... maybe more like eight years ago... I was on a movie date watching Spider-Man 2. About 20 minutes in, some idiot's mobile phone goes off... and he answers it. My date dug into my arm with her nails because she knew this is exactly the kind of situation that causes me to go off. But somebody else beat me to it. "HOPE THE MOVIE ISN'T DISTURBING YOUR PHONE CALL, BUDDY!" he yelled. The man who took the call screamed back "MY WIFE WENT INTO THE HOSPITAL THIS MORNING, SO I HAVE TO TAKE THE CALL YOU ASSHOLE!" At this point I couldn't take it any longer and screamed "YOUR WIFE IS IN THE HOSPITAL AND YOU'RE AT A MOVIE THEATER? WHAT A DICK!" This cause the crowd to start applauding and the idiot with the phone left never to return.
It was at that point I realized that movie theaters were doomed.
Moviegoers have always had to deal with people who talk during the film and smack their popcorn and kick the seats, but mobile phones? This was a disaster. Who the heck is going to want to pay a stack of money for movie and overpriced refreshments if they're going to have to listen to people talk on the phone while they're trying to watch a film? Hell, escaping from having to listen to people on their phones is one of the best reasons to go to the theater!
Clearly movie theater companies would have to do something about this.
But other than those lame "turn off your mobile phone" messages that are flashed for a second after the previews, they don't seem to give a crap.
And now it's even worse because people are texting during the movie. Theater companies seem to care even less about texters because they "aren't disturbing anybody." Except they ARE. All those glowing screens are a huge fucking distraction when you're trying to watch the film...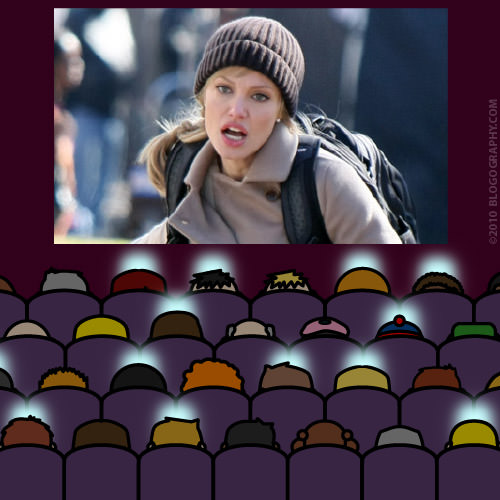 Though SOME theaters have the right idea about that...
...but most don't.
And since I don't have an Alamo Drafthouse nearby to kick the rude assholes out of the theater, I just stopped going. Now the only time I'll go is when it's a movie I'm just dying to see... and even then I usually go to mid-day showings and wait for as long as I can so the crowds will have died down.
So attention theater companies: Stop your whining about falling revenue.
Because if you really wanted to lure me back as a customer, you'd start doing your part to make it a worthwhile experience. Which means kicking out the talkers, seat kickers, phone callers, and texters so people can actually enjoy watching the movie they paid to see.
Until that happens, I'd rather watch a movie on my iPhone than in your stupid, annoying theater, even though David Lynch will eat my soul...
Maybe I won't be "experiencing the movie" but at least I won't be "experiencing movie theater hell."