It used to be that when I heard somebody say "I'm my own worst enemy" I would reply "THEN STOP FIGHTING WITH YOURSELF, YA MORON!"
Not out loud, of course. I'd say it in my head. But I always thought this was the stupidest saying ever because anybody who has themselves as an enemy and is still alive must be really bad in a fight. If I were MY own worst enemy, there'd be no survivors.
But lately I've had a change of heart.
Sometimes enemies are so lethal that they are at a perpetual stalemate. Which means there doesn't necessarily have to be death and destruction when facing off with an arch-rival...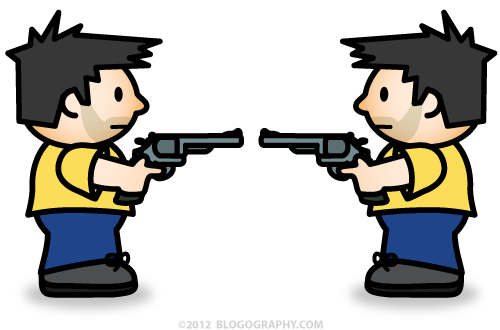 That's pretty much me right now.
Except all the fight has been beaten out of me over the past month, so it's not that I'm too lethal to battle myself, it's that I'm too tired to put up much of a fight.
Which means my own worst enemy is badly in need of an ass-kicking.
If only I cared enough to give one to myself.