I'm sitting here watching television when it suddenly occurs to me that I haven't blogged yet today. Since Bullet Sunday was late last week, I'd better get a move on...

• Closet! And so we can add Rick Perry to the list of political assholes and religious nut-jobs who are most-likely closeted homosexuals. Why give a shit about the sex lives of consenting adults unless you've got serious sexuality issues of your own that you're working through?
Perry's disgusting new ad attacking brave men and women in our armed services is nothing more than pathetic pandering to a dwindling segment of homophobe voters. As if that weren't enough, it's also a gigantic pile of bullshit. Still, I'd love to see the outtakes from that shoot...

RICK PERRY: Not the Mormon guy, got it.

Wasn't he in the Air Force? You'd think he'd know better...

So THAT'S what he was digging around for in that pocket!

• Flash! And so this happened...
Which isn't really a big deal considering Lindsay Lohan doesn't display her downstairs business in the magazine, but has flashed her cootchie all over town for free...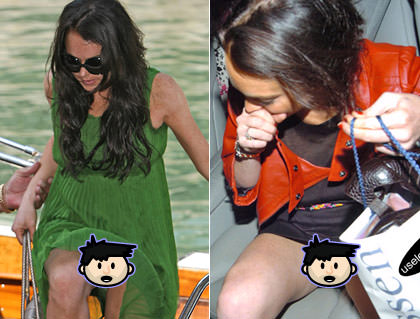 In her Playboy shoot, Lohan decided to pose dressed up as an absurd Marilyn Monroe impersonator and be air-brushed beyond recognition, so I guess that's something. Or whatever.

• Whitened! When I get offers to endorse products on my blog, I always refuse so that when I do endorse something people will know it's for reals. And I gotta say, Colgate's new OPTIC WHITE toothpaste is certainly worth endorsing. It may taste like crap, but it actually works...

BEFORE OPTIC WHITE is on the left. AFTER OPTIC WHITE is on the right.
If you want whiter teeth but don't want to waste time with a whitening kit or pay tons of money for professional whitening, you might give Colgate OPTIC WHITE a try.

• New 52! Now that I'm three months into DC's "New 52" company-wide reboot, I'm still reading 35 of the 52 books. My guess is that this will drop to 30 by year's end, but that's still pretty remarkable. I would have never imagined that I'd like over half of these books considering I was buying only a dozen DC titles before the reboot.
If you'd like to see my scorecard for all 52 titles, I've put that in an extended entry...
Here's where I'm at right now with the DC New 52, having read the first three issues of each title (the books in red I'm dropping).
Justice League Titles...
Pretty much a home run. All the "big" characters (Superman, Batman, Wonder Woman, Green Lantern, Flash, Aquaman) are off to a good start.
Batman Titles...
Nobody loves Batman more than I do, but this is just too much fucking Batman. By diluting the character with all these ridiculous spin-offs, DC is killing the unique specialness of the character... especially with half the books being average or worse. Instead of watering down Batman, why not resurrect The Brave and The Bold to put him in a team-up book if you want more Batman on the shelf?
Superman Titles...
I've always liked Superman, and the reboot has given me more to like. As with Batman, I wish we had a Superman team-up book in the mix, because the old DC Comics Presents title was a lot of fun.
Green Lantern Titles...
In all honesty, the Green Lantern mythos has just gotten way too complicated. With Red Lanterns, Yellow Lanterns, Orange Lanterns, and all the rest (not to mention the myriad of Earth-bound Lanterns) I've kind of been soured on the whole concept.
Young Justice Titles...
So many of these books are just so mind-bogglingly average. They're small in scope and low on the really great comic book moments that define a book.
The Edge Titles...
The way that the Wildstorm Universe has been shoe-horned into the DC Universe is kind of lame. They weren't that great of characters to begin with. The sole exception being The Authority which grew out of Stormwatch... but the relaunch adds a badly misplaced Martian Manhunter and it doesn't really work. There were some nice surprises in the other titles, but not enough.
The Dark Titles...
A folding of the Vertigo titles into the mainstream DC Universe that actually works. I was pleasantly surprised by the majority of these titles, and half of them are books I most look forward to each month.