I'm sitting here watching television when it suddenly occurs to me that I haven't blogged yet today. Since Bullet Sunday was late last week, I'd better get a move on...

• Closet! And so we can add Rick Perry to the list of political assholes and religious nut-jobs who are most-likely closeted homosexuals. Why give a shit about the sex lives of consenting adults unless you've got serious sexuality issues of your own that you're working through?
Perry's disgusting new ad attacking brave men and women in our armed services is nothing more than pathetic pandering to a dwindling segment of homophobe voters. As if that weren't enough, it's also a gigantic pile of bullshit. Still, I'd love to see the outtakes from that shoot...

RICK PERRY: Not the Mormon guy, got it.

Wasn't he in the Air Force? You'd think he'd know better...

So THAT'S what he was digging around for in that pocket!

• Flash! And so this happened...
Which isn't really a big deal considering Lindsay Lohan doesn't display her downstairs business in the magazine, but has flashed her cootchie all over town for free...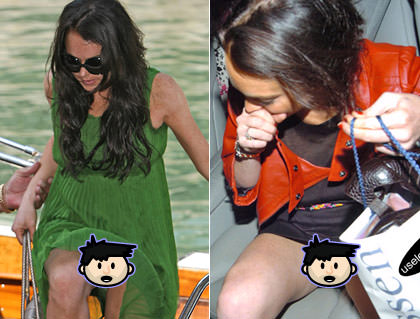 In her Playboy shoot, Lohan decided to pose dressed up as an absurd Marilyn Monroe impersonator and be air-brushed beyond recognition, so I guess that's something. Or whatever.

• Whitened! When I get offers to endorse products on my blog, I always refuse so that when I do endorse something people will know it's for reals. And I gotta say, Colgate's new OPTIC WHITE toothpaste is certainly worth endorsing. It may taste like crap, but it actually works...

BEFORE OPTIC WHITE is on the left. AFTER OPTIC WHITE is on the right.
If you want whiter teeth but don't want to waste time with a whitening kit or pay tons of money for professional whitening, you might give Colgate OPTIC WHITE a try.

• New 52! Now that I'm three months into DC's "New 52" company-wide reboot, I'm still reading 35 of the 52 books. My guess is that this will drop to 30 by year's end, but that's still pretty remarkable. I would have never imagined that I'd like over half of these books considering I was buying only a dozen DC titles before the reboot.
If you'd like to see my scorecard for all 52 titles, I've put that in an extended entry...
→ Click here to continue reading this entry...