Meh.
I woke up at some ungodly hour this morning so I could watch the lunar eclipse.
I was expecting to see something like this...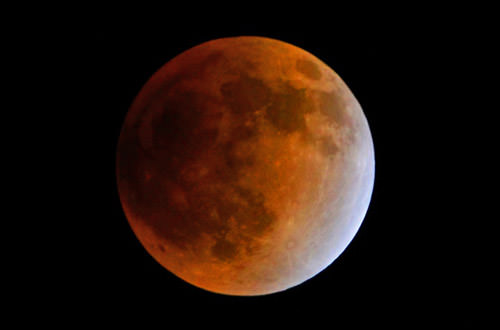 Instead what I saw was this... Clouded in again. Story of my life.
Can't catch a break when it comes to eclipseses eclipsees eclipses.

The latest Republican Debate that aired tonight was PRICELESS. Seriously, unless you saw it you just don't know. I didn't think it was possible for the entertainment value on these things to go up with Cain no longer in the picture, but there you go. It was like the nomination was pinned to a piece of raw meat that was thrown into the middle of the room and they all had to fight over it. Some of the attacks and in-fighting were so delicious that I found myself wanting to lick my television screen.
Usually, I'd run a recap of all the candidates and how they did, but it really wasn't that kind of debate. The only thing that surprised me this time around was how questions were designed to attack Gingrich in a kind of passive-aggressive way. I mean, when you ask about the importance of marriage fidelity when Gingrich is on his third marriage and everybody else is on their first, it's pretty obvious. I guess this means the honeymoon is over, and the Powers That Be have decided it's time for Newt to take a powder.
But despite it all, I'd say that Gingrich still came out on top (even if he likes to invent invented people). It wasn't hard to do when Mitt Romney was getting slapped around the entire time (and reminding everybody that he's sooooooo rich that a $10,000 bet is not a big deal didn't help his case much).
Rick "Piece of Shit" Santorum and Michele "Bat-Shit-Crazy" Bachmann can't drop any lower than they already are, so I'd say the big loser of the night was Rick Perry. His folksy form of Christian exploitation and poor grasp of even basic issues makes him sound like he's mentally deficient. But what do I know... maybe that's what Republicans are looking for in a candidate. Has he had his turn as front-runner yet?
Personally, I don't want to wait for a Republican candidate to emerge victorious before debating President Obama. The entire panel seems to to nothing but attack the guy, so why not invite him to the next debate? That would be all kinds of awesome.
In the meanwhile, getting a good night's sleep would be all kinds of awesome.
If I were as insanely rich as Mitt Romney, I'd wager $10,000 it ain't gonna happen though.