I'm kind of late to the AppleTV game. Unlike just about every other Apple product, I didn't jump in with AppleTV 1.0 because it was something I simply had to own. For one thing, there just wasn't much content available. For another, it was basically just a big hard drive with video output. Not very compelling considering hard drive space eventually fills up. Or, worst case scenario, the hard drive fails and you lose everything.
But then AppleTV 2.0 came along. It most decidedly wasn't a "hard drive with video output" because it didn't even have a hard drive. It streams everything from the internet, including any television shows you've purchased from the iTunes Store, streaming video from Netflix, Vimeo, and YouTube, streaming photos from Flickr, Podcasts, and even iTunes movie rentals. As if that weren't enough, you can use Apple's "AirPlay" technology to stream video, photos, and music from your computer, iPad, or iPhone.
All in a tiny, tiny little box...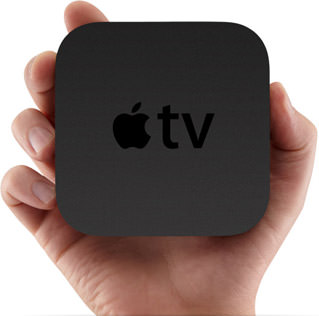 Thanks to Apple's new "iCloud" technology with "iTunes Match," AppleTV is becoming even more useful. Soon you'll be able to stream all your music not from your computer or iOS device, but from the internet. I am hopeful that eventually digital movies you purchase will also be able to be streamed.
What Steve Jobs once described as "just a hobby" is quickly becoming a core Apple device as it matures.
And, apparently, the game isn't over yet.
The internet is abuzz with juicy details coming from the Steve Jobs biography about his plans for an actual Apple Television. As told to biographer Walter Isaacson, Jobs said "I'd like to create an integrated television set that is completely easy to use. It would be seamlessly synced with all of your devices and with iCloud. It will have the simplest user interface you could imagine. I finally cracked it."
Just one look at Job's philosophy for remote design should explain exactly why this is such a tantilizing prospect...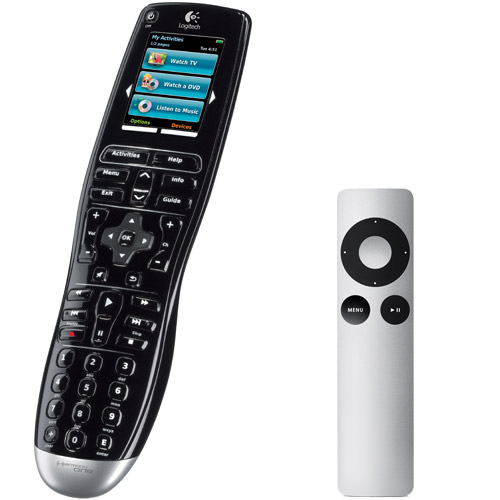 My Logitech "Harmony One" remote on the left, AppleTV remote on the right.

I, for one, welcome our new television overlords.
First of all, I'm excited about the idea of just paying for what I want to watch. Right now, if you have cable or satellite television, that's not an option. You purchase "bundles" of channels that includes crap you may never want to watch. For example, I have an "Expanded Basic" package bundle so I can watch Food TV, USA Network, and some other channels I enjoy from time to time. But that same package also includes stupid shit that I would NEVER want to watch (like FOX "News") but I pay for it anyway because I don't have an option to remove it from my bundle. The cable company controls where the money goes, not the consumer. If Apple's plans for television change this, I would be thrilled not having my hard-earned dollars going to support crap I hate.
Second of all, I really like the idea of not having to pay for shows when there's nothing new being produced. In other words, I don't want to pay to watch reruns. Now when you purchase a show via the iTunes Store, you can re-watch it as often as you want on any of your Apple devices at no charge. You've already paid for it, and you don't have to pay again.
Thirdly, I am really, really freaking out over a the business model which could arise from all this. Rather than advertisers paying networks to pay studios to pay for television content, you'd just pay the studios directly. Voilà, no more having your TV shows interrupted by annoying ads.
But the biggest bonus of all? Apple could take down the whole television network system.
Think about that for a second.
Let the ramifications of that really settle into your brain.
No longer will networks control what shows make it to air... which shows are renewed... which shows are canceled. Consumer purchases decide! Sure Apple is going to get a cut of the money that studios take in, but you're purchasing from the studios directly, so the majority of the purchase price goes to the people producing the content. All of a sudden, the fate of amazing shows like Veronica Mars aren't being sabotaged by network execs who require a massive profit margin so they can get paid to sit on their stupid asses and ruin television. The studio either gets enough money to produce the show and continue doing so... or they don't get enough money and the show is canceled. And I'd like to thank that it would be more profitable for them with only one middle-man in the mix (Apple) instead of the dozens of greedy assholes with their finger in the pie now. Suddenly, smaller shows and smaller studios actually have a chance at survival. Instead of competing against stupid reality show juggernauts and network money-makers for ad revenue, they instead compete for viewers directly.
This will require a radical shift in how television is produced, but I think it will be worth it. Perhaps television networks can reinvent themselves as television investors or something... I don't know. All I do know is that putting the consumer in control of the shows they want to watch and giving control of the content back to content producers is a very good thing.
Though there are many problems to address. How does a new show get noticed? Maybe by giving the first episode away for free? Perhaps Apple's "Genius" technology can be used to recommend shows you might like based on what you watch. And how are advertisers going sell their shit? Well, maybe through sponsorships. Choose to watch an ad, and maybe you get the television show for free for your trouble. Consumers get to decide how to spend their time and money. And when they do decide to watch an ad, they can get ads tailored to them so advertisers are getting the most for their money too. Win-Win.
Not that there won't be losers, but there are always losers.
So long as I win in the end, I'm okay with that. Ask consumers, and they'll probably agree.
But a part of me thinks there will be a lot of other winners if this plays out the way it should. Technology can not only be used to deliver a better experience for television viewers, but for advertisers and content providers as well.
I want my Apple Television! It's long overdue.