It'll have to be a short Bullet Sunday today... I've got a big mess to clear up in my living room...

• Diiiiiiiieee! A new study shows that single people die younger than married people. The bottom-line being that I would live (on average, I guess) 8 to 17 years longer if I were to get hitched. I don't really know if I want to live 17 years longer on this sick sad world, but I suppose I should start investigating mail-order bride options just in case.

• Millionaires! Everybody's favorite drug-endorsing, alcohol-gorging, sex-addicted, party-obsessed melody-makers are back and asking for your help to finance their first album! That's right, Millionaires (one of those bands I hate to love) has opened up a project on Kickstarter to raise $10,000 in funding...
People can say what they like about the girls, but Millionaires know how to crank out addictive pop tunes that infest your brain unlike any other. There's just something inexplicably appealing about their unique blend of nasty-ass lyrics and thumping beats! Here's one of the least offensive songs from their last EP...
If you want to donate to the cause, visit their Kickstarter page! Thanks to Adam for the link.

• RIP HP Mobile! The big news in tech this week was Hewlett Packard killing off their "WebOS" products... namely their phones (like the Pre) and tablet (the "iPad killing" TouchPad).
Personally I don't give a crap. Nothing in these products was overwhelmingly more compelling than what you can get from an iPhone or iPad, so why bother? Why waste everybody's time? I want real competition for Apple so they are forced to keep innovating and moving forward... HP was obviously never serious about challenging iOS dominance, so good riddance.
Though it's kind of stupid to pay 1.2 BILLION DOLLARS for something you're going to piss away. And I feel really bad for the people at Palm who thought that getting bought out by HP was going to rescue all their hard work. I mean, hey... their commercials may have given me nightmares, but Palm was a decent company at one time. It's all a shame, but not surprising though. HP has a history of fucking things up.

• Comic Collector! At one time, Macintosh users who were comic book fans had a nifty solution for keeping track of their collection. It was called ComicBase, and made it a snap to catalog you comics. But then the people behind the program abandoned the Mac and went full-on Windows, which was pretty shitty to do to their fans, but I guess you go where the money is. For years, there hasn't been a really serious alternative if you're a Mac Whore. But all that changed with Colletorz.com decided to make their "Comic Collector" software available on the Mac...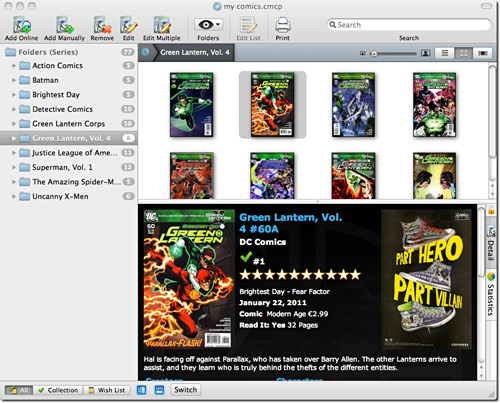 I've had a few crashes from time to time... and adding a bar code scanner can cause a few problems... but, overall, I'm very happy with it. Finally Mac users have a serious comic book database utility which pulls from a vast repository of information and images. If you're a Mac or Windows user looking to keep track of your comics, you can download a free trial at their website.

And now? Time to throw away another couple bags of crap I've been collecting before bedtime. I feel my life getting less complicated already!