After getting off work at 1:30am this morning, I drove back to my hotel half-dead. Not from the hour, but from having to work in-between work while working on work. It wears on you after a while.
So I get to my room, flop on the bed, then take out my disposable contact lenses and drop them on the nightstand so I can toss them in the garbage in the morning.
Then, after an unknown length of time, I suddenly remember that I don't have any replacement lenses or eyeglasses with me. Shiiiiiiiiiit! Adrenaline pumping I lunge out of bed and scramble to find the lamp. I somehow manage to retrieve my shriveling lenses and run to the bathroom where I oh-so-carefully attempt to rehydrate them with the saline I had bought earlier. Are they going to be wearable in the morning? Who knows. All I can do is let them soak overnight and hope.
I then headed back to bed so I could...
... STAY AWAKE ALL NIGHT ON AN ADRENALINE HIGH WORRIED THAT MY CONTACTS ARE RUINED AND I WON'T BE ABLE TO SEE TO DRIVE HOME.
And how was your night?
Eventually I give up on sleep and roll out of bed at 5:30am.
Heart pounding, I make my way to the bathroom and put my contact lenses in.
The are not at all comfortable, but they work.
So I get caught up on still more work for the next six hours with my scratchy eyes, then call in an order for a giant-size Da Vinci pizza from David's for my drive home. Yes, I've been eating pizza for breakfast, lunch, and dinner... but it's the best pizza in the universe, so what can you do?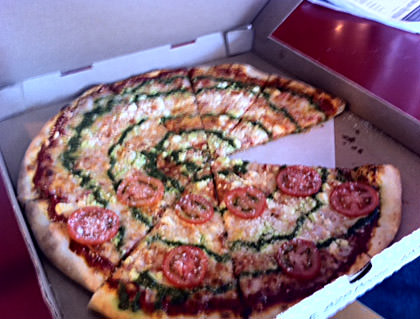 Half with tomatoes to eat now. Half without for later so they don't get slimy.
The 3-1/2 hour drive home was agonizing*, but delicious...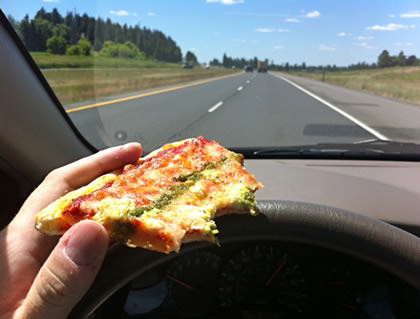 Mmmmmm... yummy road pizza!
And so here I am. In eyeglasses at last. Blogging about my day.
Because I just can't help myself.

* Seriously, agonizing. I'm trying to recall a worse road trip I've ever taken, but I can't think of one. 3-1/2 hours driving through the middle of NOWHERE with burning eyeballs on NO sleep while physically and mentally exhausted? All the pizza in the world isn't going to fix that, no matter how amazing it is.