Things did not go especially well for me today.
It all started this morning when I woke up and realized that I had packed my reading glasses instead of my glasses glasses for my trip to Spokane. Blind as a bat, I stumbled to my suitcase for a fresh pair of disposable contact lenses only to find... nothing.
My worst travel nightmare had just come true.
I was sure I had packed a bunch of lenses, but they were nowhere to be found. This meant I was, for all intents and purposes, blind. I would be unable to drive. Unable to work. Unable to do much of anything. About all I could do was call my office back home and have some lenses FedExed to me, then sit in my hotel for another day waiting for them to arrive.
Disaster.
How in the hell could this have happened? I travel professionally! I am way past this kind of amateurish bullshit!
Except I have been working day and night for the past two weeks and am completely exhausted both mentally and physically. Something eventually had to give and, unfortunately, this was it.
So what do I do now?
The only thing I could do... completely disassemble all my possessions. Unpack every last item from every last piece of everything I had. Sometimes I stick a spare lens somewhere "just in case," and now was the time to hope against hope that a stray contact would somehow be found. And it was. At the bottom of my suitcase rattling around with an old camera memory card.
Half-blind would have to be good enough.
But luck favors the foolish, and I managed to find another stray lens tucked in my notebook pocket after I got to work.
So it's all good, right?
Of course not. Work was extended another day. And while I had extra clothes packed "just in case"... I was fresh out of lenses. Which meant I had to go buy a lens case and some saline so I could re-use my only pair. All I can hope is that I don't accidentally drop one down the sink or something.
But it wasn't all bad news today. I did get to have the best pizza on planet earth...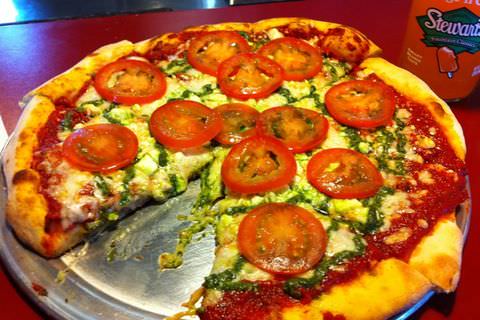 That just about makes up for everything.
Even when the power adapter for my laptop blew out.