Oh look... it's I Don't Give a Fuck Day!
Which is kind of uneventful, because every day is "I Don't Give a Fuck Day" to me.
So Vancouver made a good play for the Stanley Cup, but ultimately lost to the Bruins.
This, of course, was reason to riot in the streets... demolishing everything in sight and setting everything else on fire. In other words, to be complete and total dumbasses trashing their beautiful city. It's kind of difficult not to give a fuck about that, because I love Vancouver.
Anyway... by now the entire world has seen the striking photo of two people kissing in the middle of the Vancouver riots. When it was first released, the general consensus seemed to be that these two crazy kids got horny by all the violence and destruction then decided to drop in the middle of the street and make out...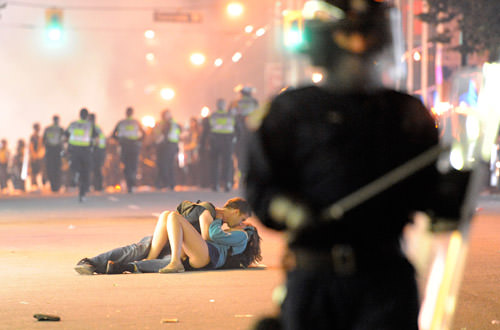 Photo by Rich Lam/Getty Images
Personally, I was thinking "Now there's a guy who has his priorities straight!" The world is going to hell around him in a maelstrom of stupidity, and he decided there was a better use of his time than smashing a window or smacking a police officer!
Eventually the couple was tracked down and told their story. Turns out they weren't making out in the middle of a riot. They said that the police overran them, beating them down to the ground with riot shields. The girl was hurt and understandably freaked out, so the guy laid down next to her and gave her a kiss on the cheek... assumably to calm and comfort her. If you can get the image of a total player out of your head, it's actually kind of sweet.
The internet, skeptics all, decided they were horny liars. Some were saying the entire thing was staged. But eventually the CBC released footage that showed they were telling the truth. the police actually did beat them down and overrun them on the street...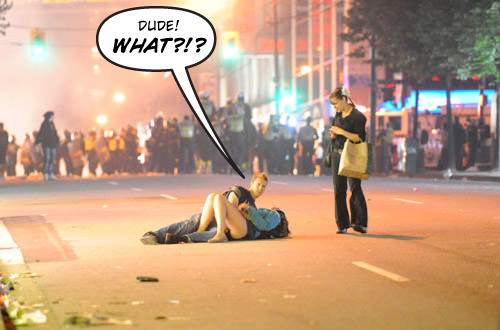 Naturally, this is the internet we're talking about, so people started Photoshopping the kissing couple in all kinds of outlandish situations. I decided to take another approach. Since the riots were so fucking stupid, I decided to Photoshop them in other incredibly stupid situations...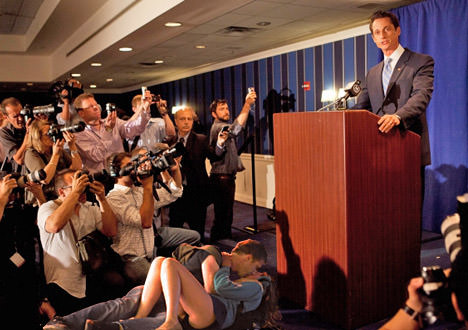 Photo by Andrew Burton/Getty Images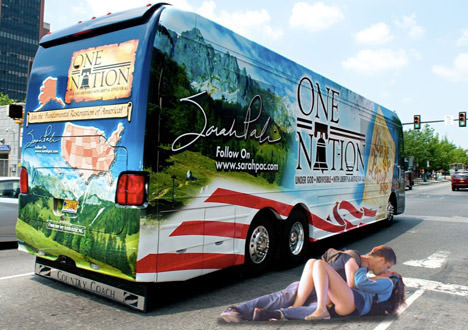 Photo by Jeff Fusco/Getty Images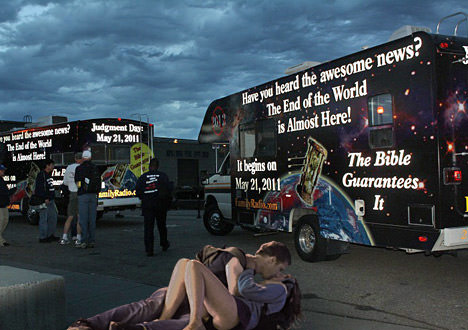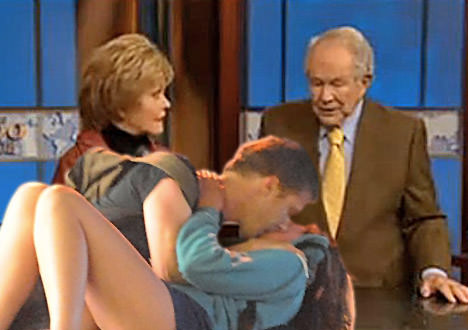 Photo by CNN Images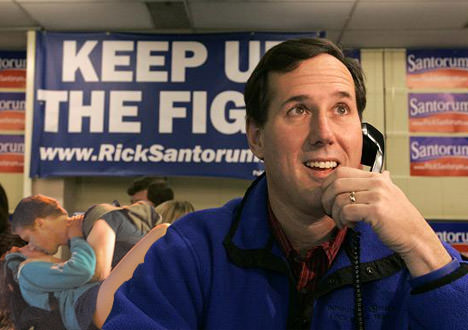 Now, if you'll excuse me, I have to get back to not giving a fuck.