Work managed to crush me today, so I decided to step away for a while and recharge. The plan was to go back to my hotel room and read a book, but I knew if I did that I'd just end up checking email and getting sucked back into work all over again.
So I decided to go to a movie.
And despite my raging hatred of the first three crappy X-Men movies, I went and saw X-Men: First Class.
I thought that the "first class" in the title was referring to the first class of students in "Professor Xavier's School for Gifted Youngsters" from the comics... but it would seem it's actually referring to the movie itself. Because this film was one classy affair from start to finish.
I loved it.
From the retro 60's styling and amazing cast to the cohesive story and terrific special effects... this movie has it all...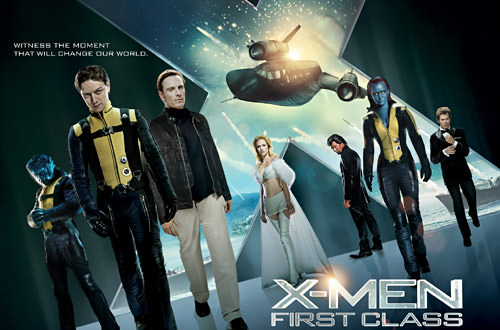 The plot revolves around the formation of the mutant super-hero group, The X-Men, and the initial friendship of Charles Xavier and Erik Leshner, who would eventually become deadliest of enemies as Professor X and Magneto. The story begins with Xavier working with the US government to help mutants help humans so they can be better accepted by humanity. Along the way he meets Leshner, who is tracking down the Nazis responsible for the death of his mother in a Polish concentration camp. This eventually leads to a confrontation with The Hellfire Club, who is attempting to kick-start World War III during the Cuban Missile Crisis and rule the earth.
Awesomeness ensues.
What made the previous three X-Men films fail so stupendously, was that there was ZERO attempt to make any of the characters kick the copious amounts of ass that the X-Men are known to do in the comics. They were just pathetic dumbasses who wandered around in lame stories and not really doing much of anything.
In the original X-Men, there are minor scuffles between the team and Magneto's henchmen, but the only real "fight" the X-Men get into is fighting army men. Lame. In the sequel, X2: X-Men United, the filmmakers make a half-assed attempt to start up the "Dark Phoenix Saga," but failed on every possible level. Even worse, the only real "fight" the X-Men get into this time is with water. Yes, fucking water! Super-lame. After watching the previews, I thought that finally things were heading in the right direction with X-Men 3: The Last Stand. They hinted that there would be an all-out battle between mutants, which would have kicked all kinds of ass... if it would have actually happened. Instead they pussed out again and gave us a watered-down fight with mutants mostly just running around. Not only did we get no fights worth watching, but there wasn't a decent story either. Hella-lame.
X-Men: First Class isn't overwhelmed with the mutant-on-mutant special effects battles I was hoping for, but it does do something we've never seen before in an X-Men film... have compelling characters and a good story. And when it comes to ass-kicking, Michael Fassbender's brilliant portrayal of Magneto delivers the goods. I can only hope that if (when we get a First Class sequel that they continue with the brilliant set-up in this film and add tons of cool action sequences that will finally depict the X-Men the way we see them in the comics.
That would be a movie worth waiting for.
In the meanwhile, there are a lot of potentially awesome comic book films in the pipe, so it's a really good time to be a fanboy right now.