After I got out of the movies last night I was wanting ice cream, but it was really late and so I decided to ignore my craving for the vile stuff and dream about it instead.
This morning when I woke up my ice cream obsession still there, so I decided to drop by a mini-mart on the way to the studio. I ended up buying a Chocolate-Almond Magnum Ice Cream Bar and a bag of "Original" Taco-Flavored Doritos for breakfast. When I got to work, I tore into them so fast that I think I broke the sound barrier...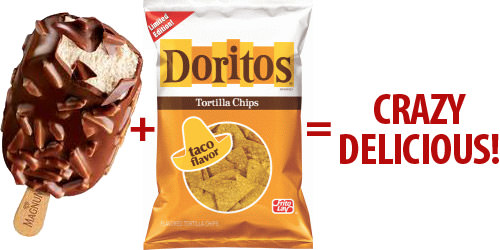 So there I was eating ice cream and Doritos when I look up and see that a little boy waiting for the school bus is looking at me through the window and screaming "HE'S EATING ICE CREAM FOR BREAKFAST!!"
Soon a bunch of kids were pressed against the window pointing and staring at me as I sat there with Dorito-breath and ice cream smeared on my face. Not really wanting to be children's entertainment so early in the morning, I waved goodbye then retreated to the back of the studio so I could eat in peace.
As I was sucking the last remaining bits of chocolate off the ice cream stick and dumping the Dorito crumbs in my mouth, I was starting to feel guilty for being such a bad influence on kids... until I remembered that they were going to public school where they would undoubtedly be snorting cocaine off the bathroom toilet seats, looking at porn in the computer lab, and getting wasted off cheap liquor on the bus-ride home. I'm guessing at least one of the kids was having an affair with his teacher or had gotten a fellow classmate pregnant. All of them had probably been to rehab, and half likely had a police record.
Sure they looked eight years old, but the little bugger grow up so fast now-a-days.
Ah the innocence of youth.