Honolulu is just a big city like most big cities except it has a really excellent location.
If you're into big cities then you really can't do much better in Hawaii than here, and I recommend it highly as a place to eat, shop, play, and (if you're lucky) work. The problem is that a big city is not really what people want to see when they visit beautiful Hawaii. Myself included. For this reason, I avoid Honolulu like the plague. I'd much, much rather spend my time just about anywhere except here. This usually means I end up on my favorite island, Maui, or taking side-trips to Kauai or The Big Island of Hawaii. I only come to Honolulu when work brings me here or I am changing planes or something.
Except...
For a very long time I had been treating the entire island of Oahu as if it were Honolulu.
All that changed one year when a colleague drove me to Oahu's East Shore for dinner and I was shocked to see that after you get outside of Honolulu, it's an entirely different world. Oahu is just as beautiful and amazing as the other islands... it just happens to have a big city on it.
So this trip I decided to not bail on Oahu the minute my work was over. Instead, I decided to stay here a few days and explore a bit.
And what better place to start than iconic Diamond Head?

It was a nice cool overcast day... perfect for hiking up Diamond Head!

These cool thistle-like things were everywhere.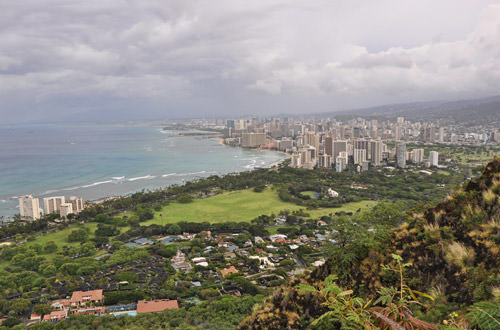 Looking down at Honolulu from the top.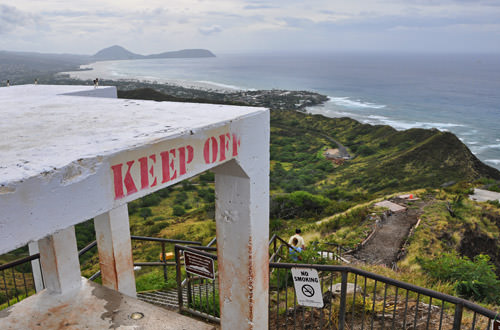 The websites I looked at for Diamond Head had me worried to hike it with my messed-up back, but it was actually a pretty easy hike. I rewarded myself with a bag of fresh-cut pineapple spears when I made it back down to the visitor center...

Yes, it was insanely delicious, just as you'd expect.
Almost as cool as Diamond Head itself is how you get into the crater through a tunnel bored into the side...

It reminds me of the Big-Foot alien's tunnel on The Six Million Dollar Man!
After that, it was time for fresh-n-hot malasadas at World-Famous Leonard's Bakery...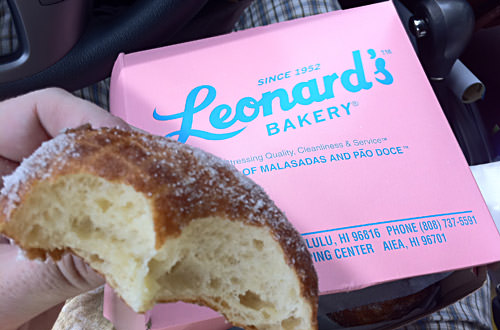 Kind of a Portuguese version of a doughnut... but without a hole.
After stuffing my face with malasadas and getting sugar all over my rental car, I was going to go find a comic book shop for FREE COMIC BOOK DAY, but decided to consult Gowalla to see if there were any cool spots to visit. First on the list? Beautiful Byodo-In Temple...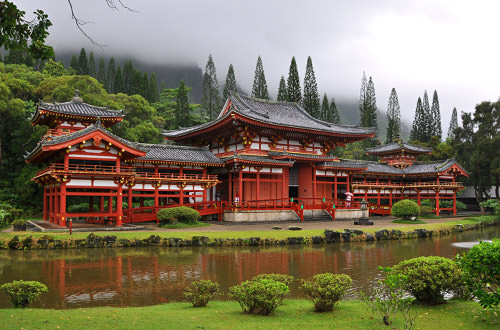 The rainy weather actually made for a prettier visit with the fog in the mountains.
Then I decided to continue driving around Oahu's North Shore. Here I stopped at a number of different lookouts and beaches, with one of the more interesting being Chinaman's Hat Island...

The island is that blip on the right-hand side there.

A better view of Chinaman's Hat.
Despite being fairly close together, the many beaches each seem to have their own personality...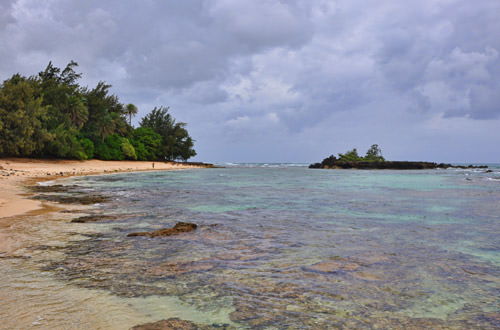 One of the more famous stops was "Sunset Beach" which was fairly empty now but, during the Winter, is overflowing with surfers. That's when some of the biggest and best waves on earth arrive...
Eventually I got tired of beaches and made my way to world-famous Matsumoto's General Store... one of the best places on the island to get a shave-ice treat...

I got "The Hawaiian" which had a colorful variety of tropical syrups on top.
The shave-ice wasn't enough cold sugar for me, so I stopped off at the Dole Plantation for a Pineapple Whip. If I were hungrier, I would have got for the Pineapple Whip Float, which is drenched with delicious Dole pineapple juice...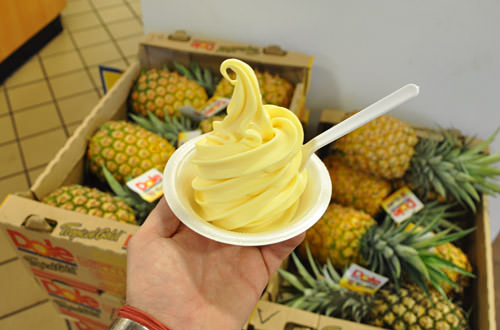 Even though it was still fairly early in the afternoon, I was getting tired and decided to head back to my hotel for a nap. But then I saw The Bishop Museum was on the way, so I had to stop and take a look. It's a beautiful, beautiful museum which does a great job of documenting Hawaiian history...

The Bishop Museum is SHARK EXTREME!!!
Once back in my room, I suddenly realized I was hungry. Since I was dead-tired I thought I might just order in room service, but decided I couldn't resist the urge to have yet another Puka Dog! This time I downshifted to "Spicy" garlic-lemon sauce instead of "Hot" because I wanted the Maui Sweet Onion Relish to shine through. This made a good thing even better...

Delicious Puka Relishes on tap!

And now... I'm done. Time to kick back and read a few blogs before bedtime. All-in-all it was a pretty great day. Despite the off-again-on-again rainy weather, Oahu treated me pretty well, and I'm glad I took the time to get to know her a little better. Hopefully tomorrow will be just a fruitful.