Tomorrow I leave for Chicago. And, despite having work piled so high that even light cannot escape its gravitational pull, I just spent the last 90 minutes playing Ticket to Ride. That game is SO addicting. Like crack cocaine. Or so I've heard. If I didn't already have an iPad, I'd probably end up buying one just to play this game.
I finally had to pull myself away from playing with trains so I could write in this blog.
Thanks a lot, blog.
In the interest of full-disclosure, however, I should tell you that I am not really concentrating on whatever it is I'm writing here. Most of my brain is still playing Ticket to Ride.
For example, when I typed the words "Tomorrow I leave for Chicago," I immediately started thinking of what route I would take to get to Chicago if I were playing the game. In case you're curious, it would probably look something like this...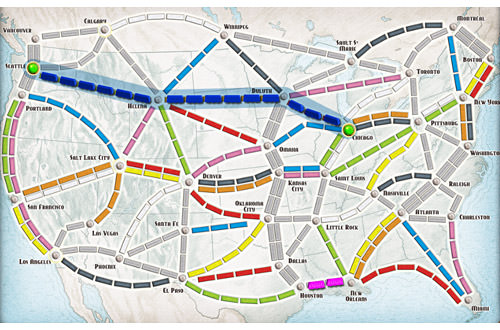 Then I find myself compelled to count how many cities I haven't been to (Six: Winnepeg, Sault Ste. Marie, Duluth, Omaha, El Paso, and Helena). And note which are the most connected cities (Helena, Denver, and Pittsburgh). And worst connected (Vancouver, Las Vegas, and Boston). And calculate which route would be the most disastrous if your opponent blocked you (Seattle to Portland, which goes from one train car to fifteen).
Etc. Etc. Etc.
Like I said, my brain won't stop playing.
Maybe it will stop if I play just one more game?
Or ten.