Every time you turn around, something is responsible for turning everybody gay.
Show gay characters kissing on television, it turns people gay. Play gay lyrics on the radio, it turns people gay. Allow two dudes to get married, it turns people gay. Let gays serve in the military, it turns people gay. Anything that's gay is turning people gay. "Experts" say that this is because "validating the homosexual lifestyle" makes people think "it's okay to be gay" and, as a result, "kids turn gay because they think it's acceptable behavior."
Well okay then.
This would explain the drama unfolding over a J. Crew advertisement where a mother is having weekend fun with her young son by painting his toenails pink...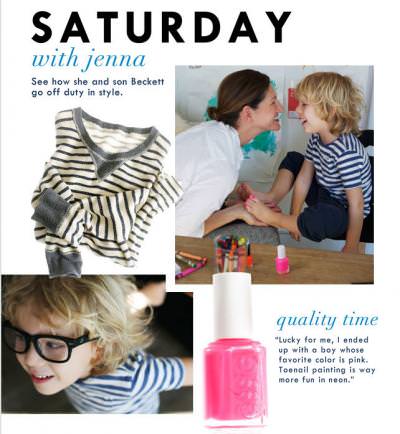 This caused a contributor over at (wait for it) FOX News, "Doctor" Keith Ablow, to declare that this kind "gender identity" confusion will require "psychotherapy for the kid." In other words, painting his toenails pink is turning him gay. Or, best case scenario, causing him to be confused about being straight.
Apparently whether he ends up liking vagina or penis is inconsequential to his sexual identity. It's the color of his toenails for one day when he's five years old that determines whether he's into clam or sausage.
Well okay then.
I guess it was a mistake to put Bad Monkey is charge of makeup around here...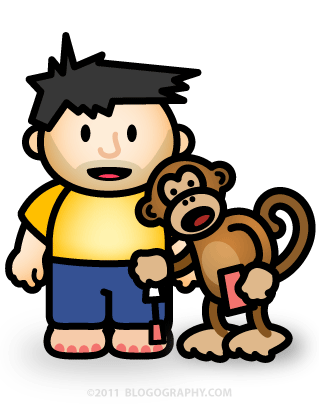 Now, I'm no expert but maybe... just maybe... all this stuff isn't turning people gay at all. Perhaps they were gay all along, and seeing that "it's okay to be gay" on television and in music and in the military and in marriage just means that they can be honest with everybody about who they've always been.
Or... or... all their mothers painted their toenails pink for a day when they were five years old.
Because who am I to argue with a "doctor?"
But hold on a second...
If homosexuality is a product of gender confusion and pink nail polish, then how do you explain somebody like Gareth Thomas? He grew up in working-class Wales. He didn't have any gay influences and felt alone and different in his environment. He's a total badass in one of the toughest, most "masculine" sports on earth. He even got married because that's what was expected of him. And yet... he's gay?
Um. Yeah. Something tells me that he never got his toenails painted pink or wore a dress or played with dolls or did any of the "girlie" things that would make some poor, young, impressionable kid turn gay. On the contrary, his environment should have been enough to insure that any gay demons he had were duly excised.
So what the fuck happened?
And what about those kids who grow up in liberal hippie communes like Portland, Oregon where being gay is not only "okay"... it's embraced as an essential character trait and roundly encouraged by society? How the fuck does anybody growing up in that gay-friendly utopia ever turn out straight? What about straight kids who grew up with gay parents? Holy crap... those kids are around people being gay EVERY DAY!
Well, I'm no expert but maybe... just maybe...
Seriously. Am I the only one who goes insane when I see this stupid crap? Does logic play absolutely no part in our thinking anymore? Are people so poorly conditioned to believe the fucked up shit they see in the "news" that they will believe something no matter how outrageous and unlikely it sounds? I know I've been harping on this very subject all week... but WHAT THE FUCK?!?
I'm not going to lie. Continuous bombardment by teh stupid is really starting to mess with my head. But there's no escaping it. This is all I see anymore. At some point, I'm going to have to take a break from the news, the internet, and society in general.
Or just stay the course and end up in an asylum for the criminally insane.
Which might not be so bad, because I'll finally be isolated from the news, the internet, and society in general.