For a day that had so many things going oh so terribly wrong, something unexpected happened to make all the suffering worthwhile.
I've blogged before about
my love of all things Matt & Kim
. They are far and away one of my favorite bands, and I have been trying for
years
to see them in concert. Because if there's one thing that Matt & Kim are known for beyond the awesome music they make, it's their live performances. If you weren't a fan before seeing them play, you would most certainly be one after. They have a joy and passion for playing music that makes their shows an experience to be savored...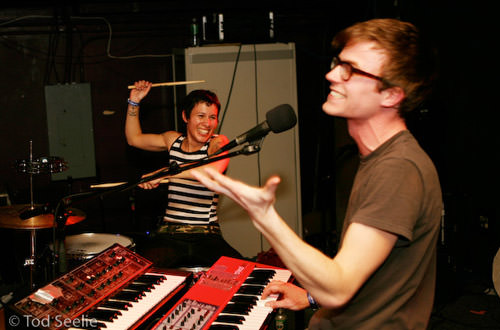 But, alas, it has not yet come to pass. Every time they've played in Seattle, I'm away. Any time I'm in a city other than Seattle, it seems as though I've just missed them. And any time I've made plans to see them, life gets in the way. I've purchased tickets to see them perform three times (once in Seattle, once in Austin, and again in New York)... but every time I was diverted and couldn't make it.
Either somebody up there really doesn't want me to see Matt & Kim, or I'm just horribly unlucky.
Or both...

Lil' Whall PC has no sympathy for Lil' Dave Mac's pain. And people wonder why I hate Windows!

So you can imagine my non-surprise when I went through their brand new Sidewalks tour schedule and saw that no dates for Seattle were listed. But then something caught my eye. There were still some dates left in their current European tour. Including March 23 in London...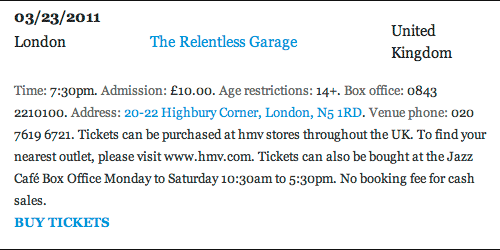 Which happens to be the day I have an overnight layover at London's Heathrow Airport on my way back home.
And so now, after years of chasing them all over the USA trying to catch them live, I have a ticket to see Matt & Kim in the UK because I just happen to be in the neighborhood.
Bloody hell.
I wonder what's going to go wrong this time?
Show canceled? Trip canceled? Weather delay? Public transportation strike? Venue closing? AIRPLANE EXPLODING?
I guess we'll see. Maybe this is finally my moment. But if something does go wrong, I'm pretty sure I'll be blaming Matt & Kim. Surely after years of effort on my part, it can't be my fault that things are going so terribly wrong.
Can it?