Welcome to a fabulous OSCARS EDITION of Bullet Sunday!

• Intro! This new tradition of inserting Oscar hosts into scenes from the nominated films just keeps getting better and better. Using technology from Inception, James Franco and Anne Hathaway go into the mind of former Oscar host Alec Baldwin to learn the secrets of hosting the show. The fact that they managed to work in Back to the Future at the end was just the icing on the cake...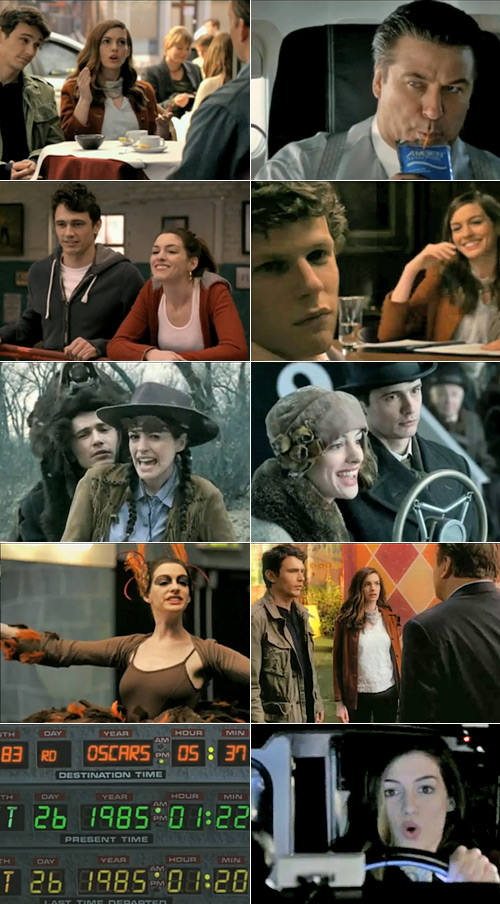 Oscar telecast ©2011 by ABC Television

• The Winners! Not surprisingly, there were a few awards passed out that I felt could have gone elsewhere, but overall I was happy with the winners. Here's my break-down...
Art Direction.
Who won? Alice in Wonderland — Who should have won? Inception
Come on. Alice in Wonderland was beautiful to look at, but it was a wacky invention that you couldn't really get wrong. Inception was practically the opposite, having to take the fantastical and make it appear very real, obviously the more difficult of the two... and a good part of what made Inception such a success.
Cinematography.
Who won? Inception — Who should have won? True Grit
Don't get me wrong... the cinematography in Inception was beautiful, but a lot of the most arresting visuals in the film were computer-generated. True Grit, on the other hand, was a stunning return to the classic grandeur of the Old West, beautifully captured by Roger Deakins.
Best Supporting Actress.
Who won? Melissa Leo, The Fighter
Who should have won? Helena Bonham Carter, The King's Speech
First of all, I love Kirk Douglas' contribution to film more than anybody, but this drug-out presentation was just awful. Almost as awful as Melissa Leo's profanity-laden, overly-long acceptance. This was a close call, but I gave the edge to Helena Bonham Carter because I felt her contribution to the film had the biggest impact of the performances I liked best.
Best Animated Short Film.
Who won? The Lost Thing — Who should have won? The Lost Thing
I admit that I didn't see two of these films, but I'd have a hard time believing anything could have topped The Lost Thing, which was fantastic.
Best Animated Feature Film.
Who won? Toy Story 3 — Who should have won? Toy Story 3
This was such a difficult choice, as I loved all three films. A part of me was secretly hoping that the beautiful "traditional" animation in Illusionist would pull off a surprise win... but this was truly Toy Story 3's award. Flawlessly animated and hauntingly touching, it was about as perfect as you could hope for in any film, animated or not.
Best Adapted Screenplay.
Who won? The Social Network — Who should have won? The Social Network
This was the story of a boring-ass legal battle somehow made fascinating by Aaron Sorkin. I'm not the least bit surprised. It's what Sorkin does.
Best Original Screenplay.
Who won? The King's Speech — Who should have won? The King's Speech
I wanted The King's Speech to win just so I could hear the speech by the guy who wrote The King's Speech! It was a great movie... my pick for best film... but I also wanted The Kids Are All Right to win because it was such a witty and special story that really should be getting more recognition.
Best Supporting Actor.
Who won? Christian Bale, The Fighter
Who should have won? Geoffrey Rush, The King's Speech
I am a massively huge fan of Christian Bale, and truly believe he gives Oscar-worthy performances in just about every single role he takes. On top of it all, his acceptance speech tonight was perfect, making me appreciate him all the more. The problem is that I just wasn't a big fan of The Fighter. Yes, he was wonderful in it, but Geoffrey Rush was equally wonderful in a film I liked a lot better. Still, congratulations, Christian.
Best Original Score.
Who won? The Social Network — Who should have won? The Social Network
Seriously. Trent. Reznor. It seems like only yesterday he was screaming "I WANT TO FUCK YOU LIKE AN ANIMAL!" and here he is accepting a well-deserved Oscar with Attcus Ross for their absolutely wonderful work on the music for The Social Network. Out of all the awards handed out tonight, this is the only one which would have caused me to go insane if The Academy got it wrong.
Best Visual Effects.
Who won? Inception — Who should have won? Iron Man 2
Look, the special effects in Inception were nothing short of amazing. Seriously mind-bendingly wonderful stuff in there. But I gotta give it up for Iron Man 2's team who managed to not only create the title character in a totally believable way, but an entire array of bad guys for him to fight as well. The entire film depended on it, and the effects team delivered. But that wasn't even what made the visual effects so incredible. The best part was that the effects team showed incredible restraint in not burying Robert Downey Jr.'s flawless performance. In every case the effects accented the film instead of standing out in a way that distracted from it.
Best Film Editing.
Who won? The Social Network — Who should have won? The Social Network
The flow of this story could have been completely sabotaged by shitty editing, but that didn't happen. The way they cut in some subtle (yet very effective) edits to keep even static moments moving really worked for the film.
Best Director.
Who won? Tom Hooper, The King's Speech
Who should have won? David Fincher, The Social Network
I'm not complaining that Tom Hooper won. Truly The King's Speech was a beautifully directed film and his efforts are well-deserving. I certainly enjoyed his acceptance speech. But I thought Fincher's job on The Social Network was probably the more challenging of the two, and should have got the shiny gold statue.
Best Actress.
Who won? Natalie Portman, Black Swan
Who should have won? Natalie Portman, Black Swan
I really didn't like Black Swan, but there's no denying Natalie Portman's performance in it was brilliant. She had to have put a lot of hard work into that role, and it paid off in spades. I never saw Blue Valentine, but if Michelle William's performance was anywhere near the others, she deserved her nomination.
Best Actor.
Who won? Colin Firth, The King's Speech
Who should have won? Colin Firth, The King's Speech
Colin Firth's performance was staggering, and his Oscar win was both expected and deserved. But, man, did Jesse Eisenberg make The Social Network worth watching. I was truly torn in my pick this year, but ultimately thought Mr. Firth had the more challenging role.
Best Picture.
Who won? The King's Speech — Who should have won? The King's Speech
By having a narrative from The King's Speech run through the roll of all ten films that were nominated, it's pretty obvious who was projected to win. And while I was a bit torn between that film, Toy Story 3, True Grit, The Social Network, and Inception for my favorite movie (DISCLOSURE: I haven't seen Winter's Bone yet), The King's Speech was my pick for best picture. I might have went with Toy Story 3 if it weren't a lock for best animated picture... or The Social Network if it held up a little better on second-viewing... but the right film won the Oscar.

• Wrap-Up! Though James Franco faltered a bit at times, overall he and Anne Hathaway did a surprisingly good job hosting the show. The musical performances were mercifully short and half-way decent (including Gwyneth Paltrow, who I thought did a pretty good job considering she's not a professional singer... it was crazy seeing all the online haters unload on her while she performed). I also thought the presentations went very well. It will be interesting to see who hosts next year.

Annnnd... I've got a long day ahead of me tomorrow, so I guess that's all she wrote. See you at the movies.