It's a tale as old as time, really.
Against all odds two people find each other. They fall in love. They get married. They want to start a family but, for one reason or another, they can't have children. But their hearts are full and they have much to offer and so they find a way. Maybe they hire a surrogate to bear them the child they want so badly. There's much to do. Diapers to buy. Clothes to find. A nursery to build. Then all that's left to do is wait.
Nine months later, a son is born.
The happiest day of their lives has finally come.
Except in this case the happy couple in question is two Belgian guys living in France, the surrogate mother is in the Ukraine, and homophobic red tape has left a nursery empty for two years while the child is stuck in an orphanage...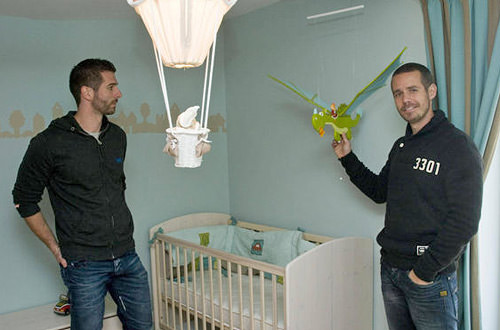 In the above photo the biological father, Laurent Ghilain, is on the left. His husband, Peter Meurrens, is on the right. The empty crib in the middle is where their son, Samuel Ghilain, should have been.
A while back I read about their struggle to get a passport issued for their son so they could bring him home. I made a comment about how fucked up it was that a baby was in an orphanage when he had two perfectly good parents who were waiting for him. Literally begging for him. But nobody would hear their plea.
Then today I was emailed a link to a follow-up story.
Little Samuel is home at last...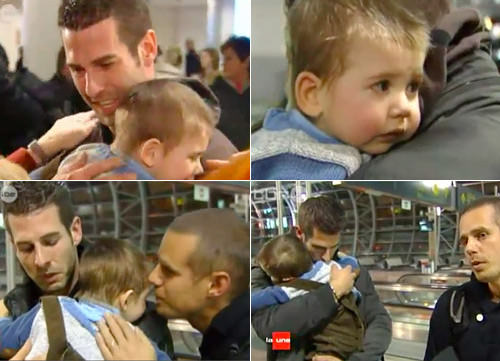 And despite the fact that such insanity is nothing new, I watched this footage and wondered all over again how anybody could be so fucked up as to believe this child belonged anywhere except with his father. Later on, there was one part of the story that caught my attention. It was a set of still-photos showing Laurent and Peter visiting Laurent's newborn son...

And that's when it kind of hits you.
Breaking the situation down to its base elements, you end up with this...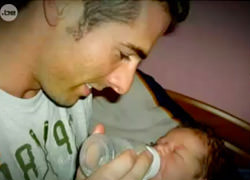 And this...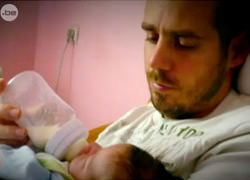 Two images of fatherhood that would tug at the heartstrings of just about anyone, anywhere.
But put the two together, and a segment of the population inexplicably loses their fucking mind...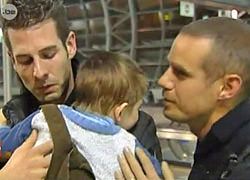 A child lucky enough to have two daddies who will love and cherish him forever is unacceptable. But a child who is orphaned, unwanted, or unloved is somehow better off.
A kid in a loving home is a bad thing when his parents are gay. But shoving that same kid in an orphanage somewhere is what's "best for the child."
How can anybody think this way and not be seen as anything less than a monster?
How can we tolerate a society that justifies such heinous treatment of children?
How can we live knowing that anybody could look at an image like this...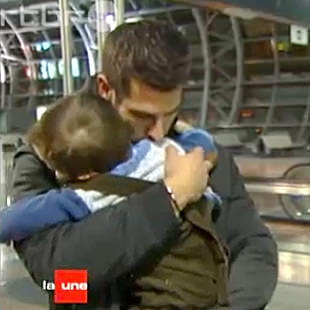 ...and not see it as anything but a joyous and wonderful event?
Sometimes the people on this world we live in fill me with such depression and despair that my heart feels as though it can't take it any more. I get to the point where all I can see is the hatred that plagues humanity day after day and the weight of it crushes me so I can barely breath. All the pain, the suffering, the sadness, the death, the destruction... so many senseless horrors... they wear on my mind so heavily that I don't even want to exist anymore.
But then I watch something beautiful like this and it's all forgotten...
If it's not already activated, you can "use original player" and click on the small CC button for an English translation.
If that doesn't work, here's a link to the original video on YouTube.

I like to think that one day all the bigoted assholes of this earth will be dead and forgotten to the betterment of all humanity. Indeed, some days it's the only thing that keeps me going.
In the meanwhile, welcome home, Samuel.