This morning I had waffles for breakfast. Isn't that what Sundays are for?

• Spy. A couple of people brought to my attention that Google Books has put some issues of Spy online for your reading pleasure! One of my favorite magazines of all time, Spy was the ultimate repository for satire writing, and had some of the most biting pranks and hoaxes ever committed. But this did not preclude Spy from tackling some serious matters in pop culture and politics as well. Hopefully Google will continue adding issues until all of them are online... that would save me from having to dig mine out of storage. If you want to take a look at what all the fuss was about, click here to visit Spy on Google Books!

• Endangered. It's that time of year when television shows are reaching their do-or-die point in the ratings. If not renewed soon, some shows I like are in danger of being cancelled...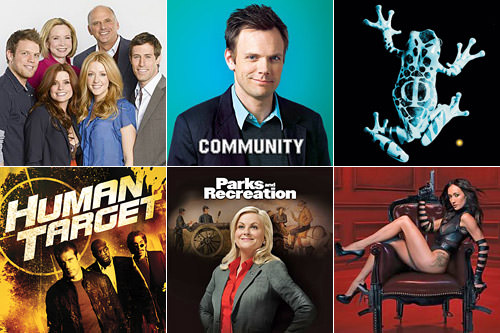 Sadly, odds are that most of these shows are not long for this world. They'll probably be replaced with shitty "reality" shows that are inexplicably popular with the public at large. Heaven help us all.

• 18. After seeing the Mars landing hoax conspiracy movie Capricorn One on VHS rental sometime in the 80's, my mind was pretty much blown. It encouraged me to think about what actual cool stuff our government might be keeping from us. Area 51 was a good start. But the various moon landing conspiracy theories floating around became my obsession. Not so much that the landings were faked... but about what happened while we were up on the moon. And there were a lot of theories. Everything from alien encounters to extraterrestrial artifacts to weapon installations to secret missions. It was a tin-hat wearing dream come true. And now a new horror movie, Apollo 18, is being released to reveal the secret of NASA's "cancelled" final moon mission... and why we've never gone back...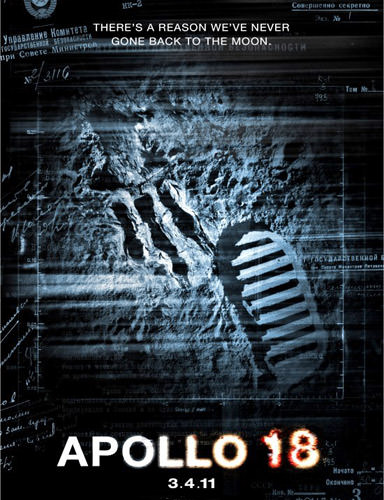 It's been shot "documentary-style" (think Blair Witch Project) which I usually loathe in movies, but I just might make an exception this time if the reviews don't suck. The cheesy but intriguing trailer is on QuickTime, and the release date is March 4th.

Annnnd... I only have time for three bullets today. There are many things to be done yet today.