I'm not sick, but I'm feeling like crap.
Probably because I made the mistake of taking a nap when I got home. That never works out well for me, but I was half-dead from the crazy events of the past week and couldn't help myself.
And so now I'm three-quarters-dead and have nobody to blame but myself...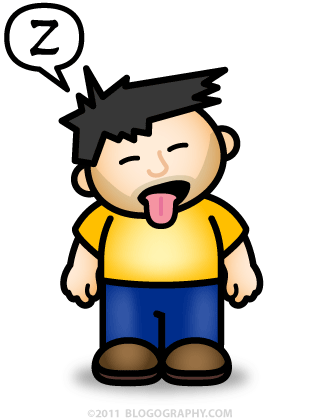 Tomorrow's going to be a fun day.
In television news... Survivor sucks more and more each season because Jeff Probst tries and makes the show be about Jeff Probst. Sorry, but this show is supposed to be about the contestants. Stop trying to influence the game and manipulate Tribal Council to put the spotlight on you. It's not making the game any more interesting... it's making the game less relevant to the outcome. Just announce the challenges, initiate the conversation, snuff the torches, and SHUT THE FUCK UP. Also? Those "Redemption Island What-If Moments" are truly stupid and wasting valuable time we should be spending... oh... I dunno... WATCHING THE GAME.
In other television news... Mr. Sunshine has to be the biggest waste of television talent in recent memory. Matthew Perry, who was not only genius in Friends and Studio 60, but near-inspiring in his guest-appearances on The West Wing is wasted on mind-numbingly boring material. Allison Janney, who's run on The West Wing is legendary, has been given a one-dimensional joke of a character that's about as appealing as salmonella poisoning. They can't even get a guest-spot right, as they bring in somebody with real character like Kathy Najimy, then have her do... absolutely nothing? WTF?
In even more television news... Justified Season Two... wow. Just wow.
In Twitter news... SWOOOOOON!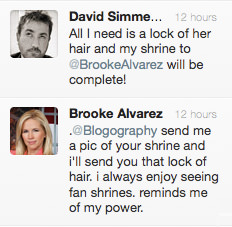 BROOKE ALVAREZ! Guess I better hose down that goat's blood off my altar and take that photo!

And, on that stalker-ish note... it's almost midnight, so I suppose I should see just how big a mistake that afternoon nap was.