And so, as promised, here I am commenting on the tragedy in Arizona after a day off from thinking about anything. I suppose I should preface this entry with a disclaimer in the hopes that my comments and email inbox won't explode with hate, which is about the last thing I need right now...
This blog post is in no way an attempt to tell people what to think. I am not trying to change anybody's mind. I'm not trying to get people riled up. I'm not trying to send a political message. I'm not trying to do anything except write down my thoughts in the hope that it will help me to move past this dreadful act of violence that has broken my heart and put me in a state of despair that I haven't felt in quite a while. I ache inside when I think of a little nine-year old girl being gunned down before she's even had a chance at life. I know that this isn't new... I know that unspeakable violence against children happens all over the world every day. But every once in a while an event like this brings all the pain forward and suddenly you're overwhelmed by something you try to forget... something you try to deny even exists. Then the reality of it all beats you down until you don't want to exist in a world where something so senseless and stupid can happen to somebody so innocent...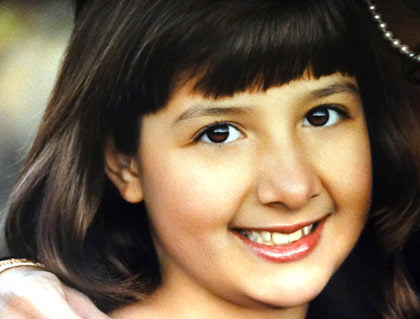 The shooter, Jared Lee Whatever, is clearly a seriously disturbed individual. Even a cursory look at his writings and YouTube videos reveal that he is mentally unstable with a tenuous grip on reality, perhaps even full-on schizophrenia, (as if gunning down a child wasn't proof enough that something is wrong). It's not in the scope of a simple blog entry to go into the peticulars of mental illness and my experience with those inflicted by it... except to say that trying to explain why they do the things they do and what causes them to do the things they do will make you crazy. I don't pretend to know what punishment is fitting for someone so clearly disturbed but, thankfully, it's not my job to decide that.
Anyway...
A lot has been written blaming Sarah Palin's "target list" (which clearly names Congresswoman Gabrielle Giffords as a political enemy) as a contributing factor to what happened...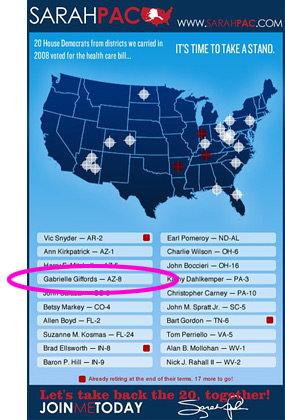 Coupled with her Twitter comments telling her followers "Don't retreat, RELOAD!" it understandably paints her in a bad light. And, since everybody is always looking for a villain whenever something terrible happens, she's a very easy person to blame.
Except...
Except... I don't for a single second believe that Sarah Palin honestly wished that somebody would pick up a gun and kill these people. Like me, she comes from a place and a culture where guns and gun terminology are just a way of life. I know this because I have been around guns all my life. Many, many people where I live own guns for hunting, for sport, and for protection (yes, we have a police department, but that's not going to be much help if you live ten miles up a canyon somewhere and somebody is breaking into your home or you're being attacked by a bear). When I was young I got my firearm safety card. I know how to use a gun. I've shot guns in the past. And even though my beliefs forbid me from handling a gun today, I could certainly do so if I had to. It's just part of the culture where I live and grew up.
As is the gun-based terminology that Sarah Palin is currently being crucified for.
But I'll get back to that in a minute.
First I want to go a bit deeper into "gun culture" and what that actually means. Because, whether or not it's prevalent in the area you're at, if you live in the United States of America, you're a part of it. And it starts from an early age.
If you're anything like me, a very early age...
This is the kind of stuff I grew up watching. If you're my age (or Sarah Palin's age) odds are, you did too. And for me to say that it affected her and not me would be pretty hypocritical. Here is a panel from a DaveToon from 2004...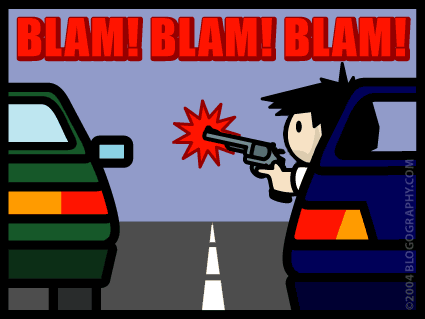 And here's a full DaveToon strip from 2006...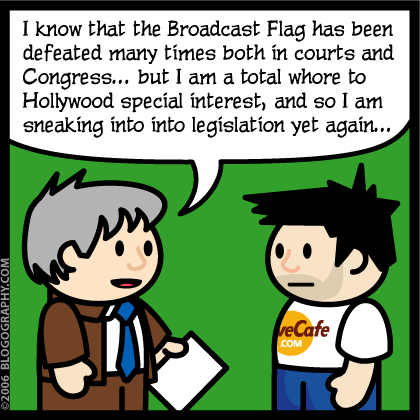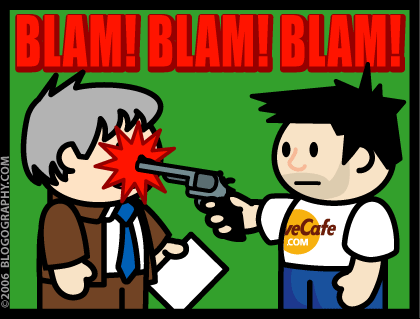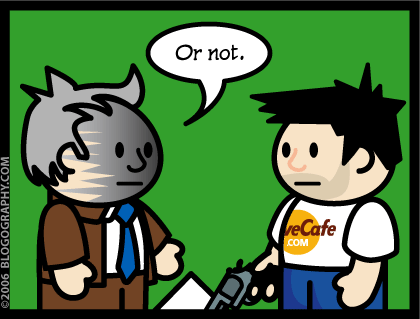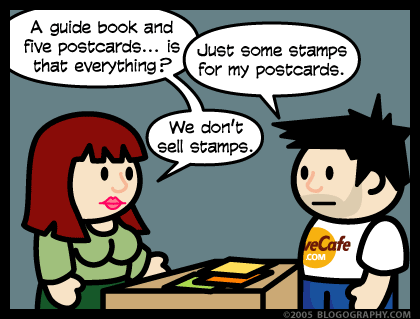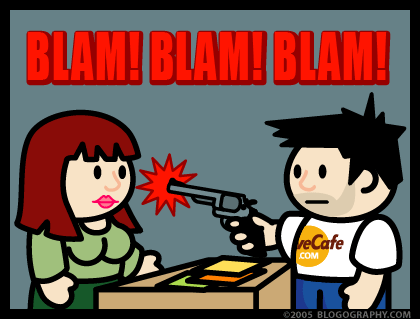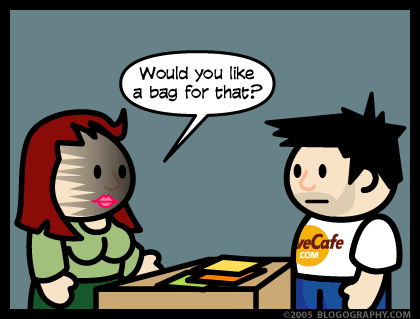 And, just to show that I'm not above gun violence to myself...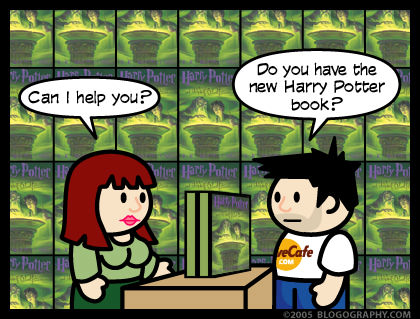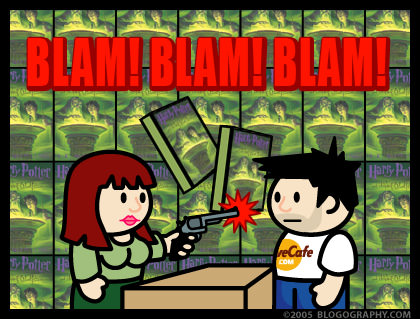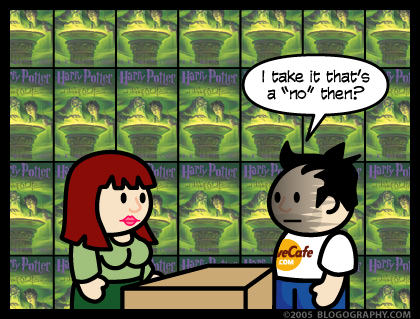 Heck, I use guns ALL THE TIME in my DaveToons. And it's not always Daffy-Duck-style blasts to the face either. In a DaveToon from two years ago there were actual bullets involved...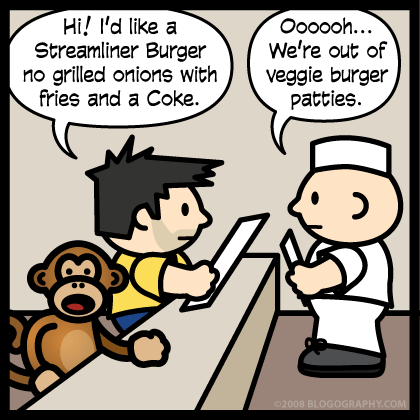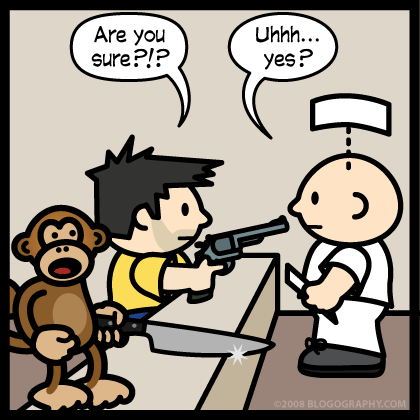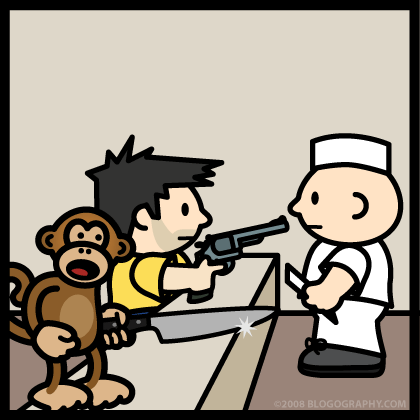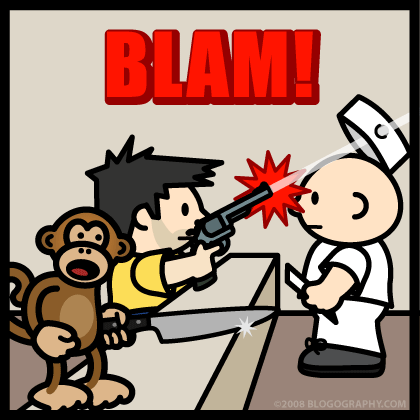 Now, granted, the vast majority of times nobody actually gets hurt in my DaveToons. Just like with Bugs Bunny and Daffy Duck cartoons, in context the guns are used for comedic effect, not to actually kill somebody. Even when I finally used bullets in my gun, the worst I could manage would be to shoot off somebody's hat. And yet, I have occasionally shown somebody riddled with bullet-holes. Like the time I tried to show the results of somebody "Happy Slapping" a random person in Britain vs. somebody "Happy Slapping" a random person in the USA...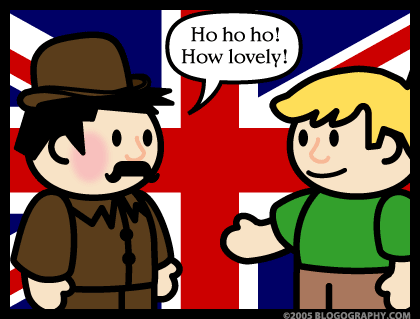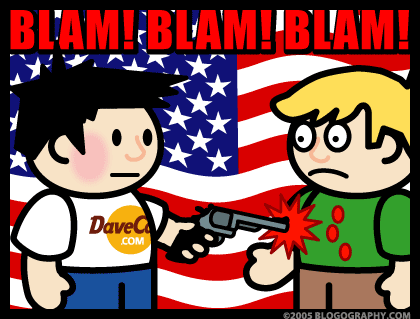 And, of course, registering my displeasure with George Lucas over his stupid Star Wars prequels and screwing up the Indiana Jones franchise...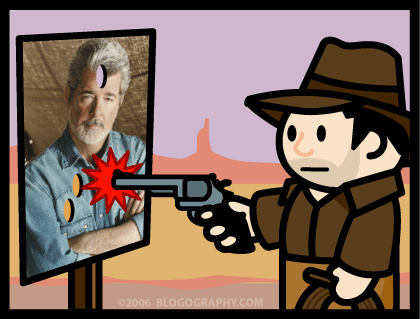 In context things like this are mere fantasy ramblings. Even though I don't use guns in real life and think that the world would be better off without them, I'm not above using them for entertainment in a cartoon on a blog meant for adults. Or enjoying them for entertainment value either. I regularly watch all kinds of action movies where people are getting shot left and right. In the context of entertainment, I don't find anything wrong with that. And neither should George Lucas... he has "Indiana Jones" shoot a lot of people in his movies. Heck, he even massacred a bunch of kids in Revenge of the Sith!
All that being said, I'm not against people owning guns in our gun-based culture. That ship has sailed. In the USA the guns are here and they're here to stay. If we were to all of a sudden ban guns, it would have very little net effect. Since the majority of people mis-using guns are criminals anyway, you'd be removing the ability for non-criminals to protect themselves against them. For better or worse, we have a gun culture and that isn't going to change.
But, given the seemingly never-ending tragedy involving insane people with guns, it's not like we shouldn't at least attempt to figure out a way to keep things like this from happening. The problem is that nothing we try seems to work. Things like "waiting periods" and "background checks" may stop some senseless tragedies from happening where they exist, but the shootings are still going on. Because the crazy people always seem to find a way. Just like when an alcoholic gets behind the wheel of a car while drunk and ends up mowing down innocent people in a sidewalk somewhere. It's illegal, we have laws against it, we have court-mandated rehab to try and prevent it, and yet it keeps happening. This doesn't mean we shouldn't keep trying, but there doesn't seem to be a foolproof solution at hand. At least not here in the United States where guns are everywhere. Just like prohibition with alcohol, there will always be a way for people to get their hands on something... even when it's been made illegal.
The perils of people having of guns is an issue that requires a lot more thought. And I'm not going to claim to know how that chestnut can be cracked.
But what about the perils of people talking guns in their language, communication, and entertainment?
Is somebody like me who draws cartoons glorifying gun violence for entertainment partly responsible for escalating gun-based violence in this country? What about cartoons, video games, television shows, comic books, movies, YouTube videos, websites, and all the rest?
Probably.
And yet... not really.
Taken in context, someone would have to be insane to look at one of my DaveToon rants or a Daffy Duck cartoon and think that they're being instructed to go get a gun and shoot somebody.
Unfortunately, as we are sadly aware, these people actually exist.
So, like I said... probably.
And yet... not really.
Even though I loathe Sarah Palin, abhor her politics, despise her lies, deplore her half-truths, and find her messages of hate and bigotry to be disgusting on every possible level... even though I find her partisan hackery and unfounded attacks to be reprehensible... even though I think she has a lot to answer for when it comes to her irresponsible manipulation of people with fear, uncertainty, and doubt... even though she is one of the most useless, incomprehensibly stupid people I have ever seen in the political arena... even though she disgusts me in ways I can barely enunciate... her saying "Don't retreat, RELOAD" and drawing targets on her political rivals is just a part of our gun-based culture. Sarah Palin is being strung up for something most of us are guilty of in some way.
Even Daffy Duck.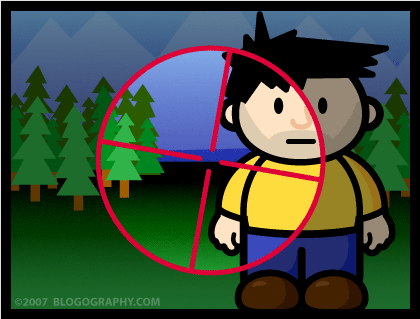 When I was in high school I remember a pep rally poster where gun targets were painted over drawings of mascots from other school's sports teams. Above that, something like "WE'VE GOT YOU IN OUR SIGHTS" was painted. Did our school literally want to hunt down rival schools with guns? Of course not. Was our intent to incite others to hunt down these rival schools with guns? Of course not. But that's the culture where I come from. No sane person would attach heinous acts of violence to something like this because In context it's simply communicating team spirit in words and images everybody here understands.
In the wilds of Alaska where Sarah Palin is off shooting moose and clubbing fish, I'm sure it's much the same. Words like "RELOAD" are just colloquial parts of speech where she comes from, and a means of expressing her seriousness in the idea of confronting opposition head-on. I totally get that. The USA is filled with violent imagery just about everywhere you look, and she's just latching onto that as a way of stating her opinions. In that respect, she's no different than Quentin Tarantino making violent films like Reservoir Dogs or the people at Rockstar Games who make the Grand Theft Auto video games.
Except...
Except... as a political leader, Sarah Palin should know better. She should act better. She should be a better example. She should inspire better. And she should lead by a higher standard. But she never has, and I don't expect her to start now. When your message is one of division and hatred, there's very little room to maneuver. Sudden pleas for respectful debate and intelligent compromise would be seen as a huge weakness by her fan-base, and an implausible reversal by everybody else. She's trapped in a prison of her own making, and though she may temporarily tone down her rhetoric, it's only a matter of time before she's back to form or else she knows that she's finished.
And that means we ALL have a problem.
Because while I have every confidence that Sarah Palin never in a million years intended for anybody to be shot because of her gun-speak and infographics... when taken in context she should not be the least bit surprise that the accusations are being laid at her doorstep. You can't viciously attack your political rivals with such unbridled vitriol and expect nobody is going to take your extremes to an extreme.
Whether that's what happened here, we may never know. As I said, trying to understand the mindset of a disturbed person like Jared Lee Loughner will drive you crazy. But... so long as Sarah Palin continues down the road she's on, she should expect to be taking more heat down the line.
Hopefully you can now understand why I choose to forgive... even defend... Sarah Palin using language and imagery that's a part of America's gun culture to communicate. It would be hypocritical of me not to.
But I hope you can also understand why I choose to believe that context is everything when it comes to something like this, and hers is hardly a message or method I can support. Respectful debate has been replaced with vicious attacks when it comes to political discourse in this country... on both sides of the political spectrum. That this will lead to violence is not surprising. That people in this country will stand for it is surprising.
Or not. I mean, you've got kids watching Elmer Fudd blow off Daffy Duck's head seventeen times for heaven's sake.