Food Network has a show called The Best Thing I Ever Ate where they invite their own network "food stars" along with famous chefs to talk about (surprise!) the best thing they've ever eaten. Each episode starts with a theme like "Hot & Spicy" or "Sliced" or "Crunchy" or "Totally Unexpected" and then everybody has to pick a "best thing" to match. It's a surprisingly engrossing show, because the answers run the gamut from sublimely extravagant to dead simple... from impossibly expensive to dirt cheap... from around the world to around the block. It's a fun show to watch, especially if you're a foodie like me.
The episode I saw tonight was the most interesting show so far. The theme was "Last Supper," where everybody had to choose their final meal as if they were going to die once they ate it.
After reading Satoshi Kon's touching goodbye letter to his family and friends yesterday, death has been on my mind lately, so the topic seemed apt.
My last meal would be here...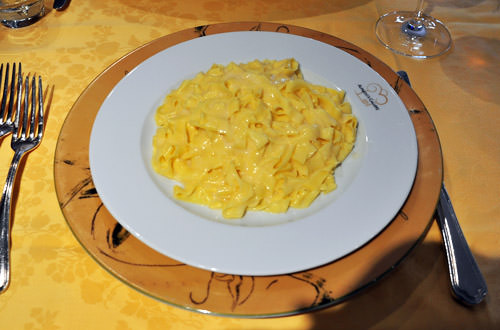 It's the birthplace of Fettucini Alfredo... which is Alfredo alla Scrofa Ristorante in Rome. I had eaten Fettucini Alfredo many times before I first came to this restaurant in December of 2000 but, once I ate the original, I realized that I had never really eaten it before. My meal was so good that I ended up eating here for both lunch and dinner the next day, and dinner the day after that. I couldn't get enough, and was thankful that I'd be leaving soon so I didn't end up with an Alfredo-induced heart attack.
After my final supper at Alfredos, I'd walk to a neighborhood gelateria for some authentic Italian stracciatella gelato. I think then that I'd be ready to die. Or have a triple bypass. One of those.
Five days and counting...