Hooray! Today is Disneyland's 55th birthday!
When I was a kid growing up, Disneyland was the be-all, end-all of my existence. I wanted nothing more to visit the place since the first day I heard about it. When I finally got to go, it was everything I dreamed it would be. From the minute I walked through the gate, got my hands on that booklet of ride coupons, and gazed upon the majesty of the E-Ticket, I never wanted to leave. And, in my head at least, I never did.
Since then I've returned to the park many times. With each visit a little more of the magic wears off, but the memories of that first visit still bring the magic. Even though Disneyland seems so small compared to when I was a kid. Even though there's no more E-Tickets. Even though everything is over-commercialized to the point of nausea. Even though they got rid of The Country Bear Jamboree and Adventure to Inner Space. Even though the cost of entry now requires selling body parts to be able to afford going.
I was going through my old Disneyland photos this morning and saw so many changes. My first visit, there was a bucket "Skyway" ride that you could take from Fantasyland to Tomorrowland that ran right through The Matterhorn. In the 1990's the Skyway closed, but the cables remained. Today they're gone, and the holes have been camouflaged or closed...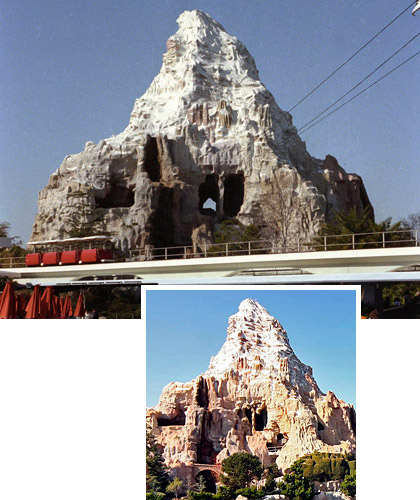 Wikimedia Commons inset photo by Carterhawk.

Tomorrowland has changed the most over the years. It used to be the "hard science of the future" that governed the look and feel of the land... but was changes to more of a "fantasy science of the future" in 1998. Some changes, like converting the NASA-inspired Rocket Jets to the more retro-futuristic Astro Orbiter were perfectly understandable. Other changes, like the covering over of Mary Blair's beautiful tile mural, were harder to take...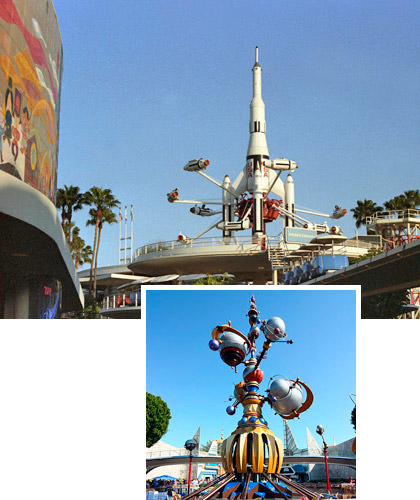 Wikimedia Commons inset photo by Carterhawk.

Some things leave only to come back again. Like the Captain EO 3D Movie. I first saw it just months after it had opened in 1986. I last saw it just weeks before it closed in 1997. Now it's making a limited engagement return as Captain EO: TRIBUTE in honor of Michael Jackson's death. Something tells me it won't hold up very well, but I still hope to see it if I can squeeze a Disney trip into my schedule...

Inset photo from EndorExpress.
But change is what keeps Disneyland interesting, and lives up to Walt Disney's vision of the park never being finished. It also gives us great new adventures like Indiana Jones and the Temple of the Forbidden Eye and Star Tours and Finding Nemo Submarine Voyage! I can't wait to see what comes next...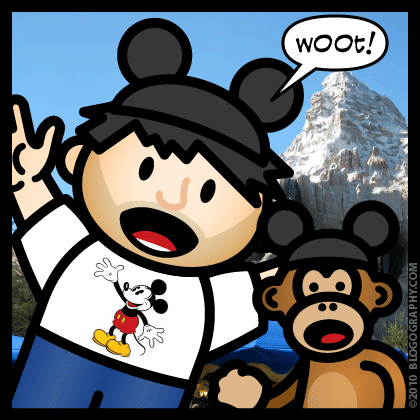 Happy birthday, Disneyland!