Yes, I am getting an iPad.
But only for a project I'll be working on... it's not something I anticipate keeping. I need a "real" computer to do my work, so my MacBook Pro laptop is always with me. And since I'm never without my iPhone as well, there just doesn't seem much point in carrying around one more gadget everywhere I go. So, after I'm done with it, I'll be giving the iPad to my mom, where I anticipate it will mostly be used as a photo album (seriously, the iPad is the most beautiful, amazing way to organize and display photos ever, as shown in this Apple tour video).
While my interest in the iPad is minimal just now, the one area where I'm intrigued with its possibilities is publishing.
I am absolutely fascinated with the idea of the iPad being used as a new distribution model for visual printed media like magazines and comic books. How sweet is it that you can eliminate the two most expensive parts of publishing printed media... the paper/printing and the postage... and just sell your work digitally at a more affordable price!
Except, just like the music industry before it, publishers are being positively fucking stupid about the future.
Because THIS is what I saw when I was looking at the cost for buying an issue of Marvel Comics from the iPad...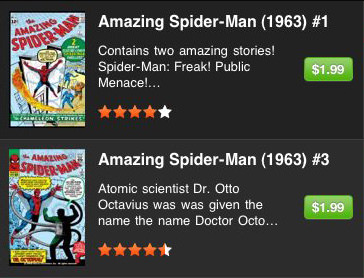 A DOLLAR NINETY-NINE EACH?!? And these comics are from 1963!! FORTY-SEVEN YEAR-OLD DIGITAL COMICS FOR $1.99 EACH?!? WTF?!?? This is just insane. I buy my current comics at discount from a comic mail order company and pay $1.85 each for A PHYSICAL BOOK! A physical book that I get to keep and save and collect. With the iPad you get a digital file that has -zero- chance of increasing in value... and you can't even loan it to a friend to read because of the DRM protection. Where is my incentive to buy an iPad digital comic when you pay MORE to get far, far LESS?
Stupid. Stupid. Stupid.
But what about magazines?
Well, let's take a look. You can currently get a physical copy of TIME Magazine delivered to your mailbox for 36¢ an issue with a 1-year, 56-issue subscription (that's $20.00 a year). Remember, that's a printed issue on paper that's been postage-paid and mailed directly to you for 36¢ each week...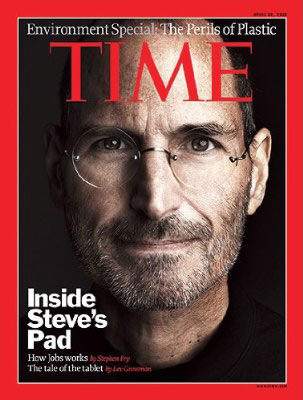 The cost to buy the same thing digitally with your iPad?
Yes, you read that right... FOUR DOLLARS AND NINETY-NINE CENTS AN ISSUE!! WTF?!? Does the iPad version of TIME Magazine come with a blow-job or something?? By buying digitally, I save the publisher from having to pay for paper & printing AND postage. And what do I get for my trouble? I HAVE TO PAY A 1286% PRICE INCREASE!!
How does this make ANY kind of sense?
By eliminating the cost of paper, printing, and postage, digital versions should COST LESS than their physically printed counterparts... NOT MORE! Or, at the very least, they should be the same price.
And so here I sit not giving a fuck if magazine publishers die a slow, painful death. They are literally too stupid to survive. So let them die. Eventually a new media replacement that doesn't have their heads up their asses will rise up and take their place.
It's only a matter of time, and I have plenty of patience.