And so my vacation is over.
The DutchBitch dropped me off at the train station for an uneventful ride to the airport. I then had a blissfully uneventful 10-hour flight home. I'd like to say I had a blissfully uneventful drive back over the mountains, but that would be a lie. In addition to "wintery mix" blasting the mountain passes (it's a mix of snow and rain)... I nearly got into an accident twice because people apparently don't know what a Yield Sign means...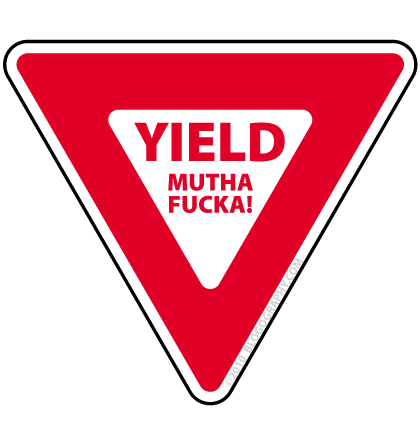 Even though it's pretty much a universal symbol meaning "STOP YOUR STUPID ASS IF TRAFFIC IS APPROACHING, BECAUSE THEY HAVE THE RIGHT OF WAY"... but while I was out of the country, apparently here in Washington State they've become merely roadside decorations you can ignore.
The first incident wasn't too spectacular. I just had to slam on my brakes to let the dumbass into my lane, even though he should have been the one stopping since he was the one with the YIELD MUTHA FUCKA! sign. The second incident was far worse, and took place as I was making the Cle-Elum turn-off from I-90...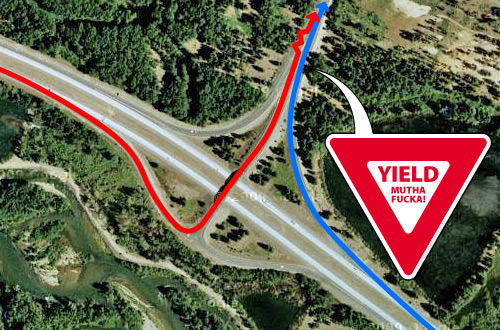 That red line is me. After making my stop at the end of the off-ramp, I continue onward after turning left. That blue line is an oblivious douchebag who didn't even LOOK to see me already in the lane he was merging into. He blew on by the
YIELD MUTHA FUCKA!
sign and came gunning right at me. Not only did I have to slam on the brakes, but I had to swerve outside of my lane and then swerve back before being hit by oncoming traffic! But you know what the
BEST
part was? The dumbass lays on his horn when he
finally
notices me swerving all over the place! And it gets better! Since I was turning right and he was turning left, I pulled up alongside him
WHERE HE PROCEEDED TO GIVE ME BITCHY LOOKS AND POINT HIS FINGER AT ME!
Like he was calling me out or something.
It took all the self control I could muster not to ram my car into him and bust his shit, but instead I pointed at him and screamed "YOU'RE THE ONE WITH THE YIELD SIGN, ASSHOLE!" He probably couldn't hear me, but I'm pretty sure he sure got the message that HE was the one who made the mistake.
Oh well.
It wouldn't be me traveling if there wasn't some drama involved.
While on the plane I watched a bunch of in-flight movies to pass the time. Usually I only watch movies that I don't care about and don't want to spend the money and time to rent...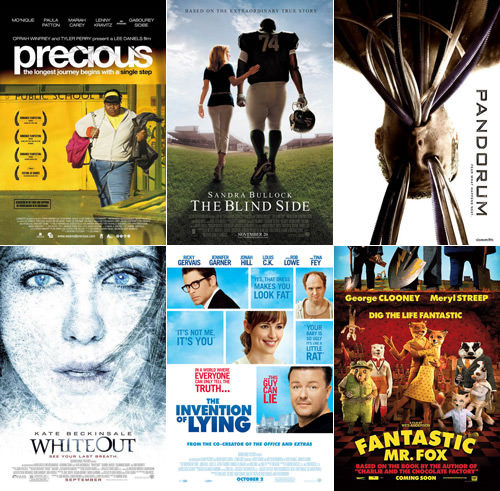 First up was "Precious, Based on the Novel 'Push' by Sapphire". I never wanted to watch this film based on the stupid-ass title alone, but the subject matter didn't appeal to me much either. I ultimately found this movie about an abused and neglected teen a crashing bore, and ended up fast-forwarding through chunks of it. So people are horrible and life is depressing... wah! Big news. There was no break-through plot element here that made the story worth my time. I thought Gabourey Sidibe's performance was good, but not really Oscar-worthy. Mo'Nique was very good at being thoroughly reprehensible though, and probably deserved her nomination. But the break-out performances to me were actually by Paula Patton as Ms. Rain and (heaven help us) Mariah Carey as Mrs. Weiss. I may have hated the movie, but there were no denying the great acting. RATING: D+
I also watched The Blind Side... a movie I avoided because all these "football inspirational" stories usually bore the crap out of me. Boy was I wrong. The story of a Southern white family who takes in a black homeless student who then goes on to become a football star was definitely entertaining. Sure the "based on a true story" plot was predictable and manipulative, but the performances were all-around amazing. Sandra Bullock earned that Oscar. And who the hell knew Tim McGraw could act? I also thought that Quinton Aaron added dimension to what could have been a pretty pedestrian and straight-forward character. These kind of bland stereotypical pablum films may not be my cup of tea, but I thought it was pretty good for bring in that genre. RATING: B-
Next up was Pandorum, a sci-fi thriller that I knew nothing about starring Ben Foster and Dennis Quaid. The film was basically a combination of a dozen sci-fi films I've already seen before (mostly Alien and Sunshine with a little Serenity thrown in) but somehow managed to pull off the "zombies in space" idea in an entertaining way. I was happy to have seen it, but didn't think there was anything new or groundbreaking here. Had they found something unique and surprising to catapult the story out of the copycat rut they found themselves in, this could have been a home-run. I was pleasantly surprised by Ben Foster though. He always seemed so one-note in other things I've seen him in, but does a great job here. RATING: B-
After that was Whiteout, based on the comic book mini-series of the same name that I had never read. It's a story about the first ever murder-mystery in Antarctica, and the special circumstances such an environment creates in trying to solve it. While I enjoyed the movie well enough (I can't help myself because I love Kate Beckinsale), the limited number of characters made guessing the mystery villain and the plot-twist villain absolute child's play. I literally had everything pegged in my head fifteen minutes into the film. Still, the arctic location made for some interesting plot elements and I liked the scenery. RATING: C+
And then was The Invention of Lying, with one of my favorite comedians Ricky Gervais, plus Jennifer Garner, Rob Lowe, and a lot of cameos from people like Tina Fey, John Hodgman, Edward Norton, Philip Seymour Hoffman, and Jason Bateman (PLUS Jonah Hill, in the ONLY role I haven't positively hated him in!). This thinly-veiled pro-atheism film was pretty much a let-down. Sure the premise of a world where people can't lie is funny at first... but the jokes grow stale far too quickly and the internal logic just didn't hold together for me. It was a half-hour of material that was drawn-out far too long (sometimes painfully so). RATING: C
And lastly there was The Fantastic Mr. Fox, Wes Anderson's epic retelling of the classic Roald Dahl children's book about a fox who craves adventure and danger... sometimes at the expense of his family and friends. I had already seen the film once, and liked it enough to watch it again. The voice cast is stellar (George Clooney, Meryl Streep, Jason Schwartzman, Bill Murray, Michael Gambon, and more), the stop-motion animation sublime, and the story just bizarre and quirky enough to keep things interesting. Oddly enough, I can't imagine kids enjoying the film that much, as most of the dialogue and story elements seemed very adult to me. RATING: A-

And now... it's time to try and get a few hours rest. It's hard to get jet-lag when you only sleep 4-5 hours each night, but hopefully this long, long day will make me tired enough to manage some sleep.