Am I the only one who keeps an Anarchy List?
You know... a list of people you will personally kill until they are dead if you're ever diagnosed with six months to live... or find out that the world will explode in four weeks... or aliens invade... or some other world-devastating event? A special list that you will act upon ONLY if going to jail or getting killed won't make much of a difference? A list filled with people, companies, or even places that deserve to be obliterated for the betterment of all society? A list so nasty that you'd be willing to give up your pacifist beliefs for the sweet, sweet taste of revenge?
Yeah, I thought so.
Tonight I added a telephone survey company to my Anarchy List.
Since they're technically not "selling you something," they're not obligated to comply with the National Do Not Call Registry, and can call you whenever they want. I hate them for that, and so they must die. If I'm ever given six months to live, their entire company headquarters will be destroyed and their call center will be wiped off the face of the earth... probably by way of a stolen FIM-92 Stinger missile... or perhaps an incendiary charge strapped to a fuel truck I've borrowed. In any event, VENGEANCE WILL BE MINE!
Ahem.
If only it were this easy...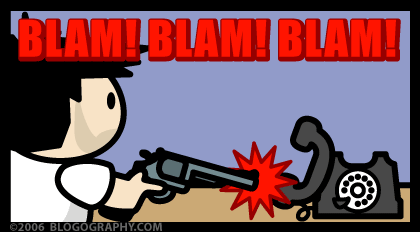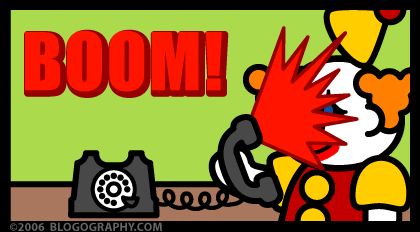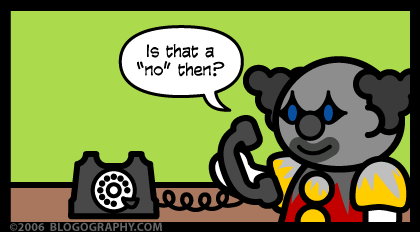 Seriously... who in the hell wants to be bothered at home for an unsolicited survey by some politician or market research company or some other stupid crap? Maybe there are people so bored that they actually live for this bullshit, but I am not one of them. Why isn't there a DO NOT CALL WITH BULLSHIT OR YOU WILL FUCKING DIE registry? I mean, it's as much for their safety as it is for my sanity.
Hmmm...
There really should be a DO NOT CALL WITH BULLSHIT OR YOU WILL FUCKING DIE registry.
Because I care. I really do.