It's heatwave edition of Bullet Sunday!
• Hot. It's eighty-eight degrees Fahrenheit outside.
• Hotter. I am guessing it's ninety-eight degrees Fahrenheit inside... because the air conditioner is broked. I try to compensate by eating ice cream and drinking ice water, but it's just not happening. All that does is make me realize how bloody miserable I am when I stop.
• Up. I saw Pixar's latest animated miracle, Up, and found it to be scrumtrelescent.
• Upper. Seriously, Up is one of the most beautifully animated spectacles ever made. That wouldn't be saying much if the story sucked, but this is Pixar, so the story is genius as usual. Crotchety old widower Carl Fredricksen decides to have the adventure of a lifetime by tying thousands of balloons to his house and floating to South America. Unfortunately, an overly-helpful and annoying Wilderness Scout named Russell accidentally gets taken along for the ride. Hilariousness ensues. I don't know if Up displaces Monsters, Inc. and The Incredibles as my favorite Pixar movie... but it comes darn close. I'd call the film "flawless" except I did have two small problems and one bigger problem with it. To avoid spoiling things, I've dropped that in an extended entry.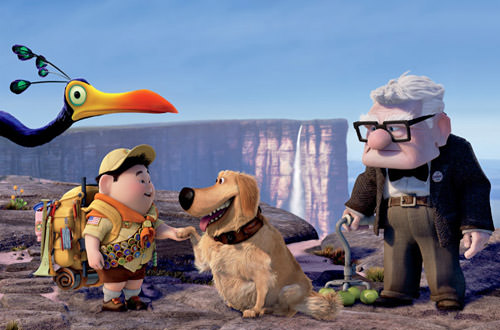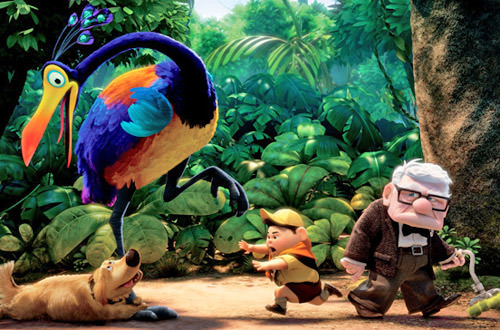 • Twitter. I already feel as though Twitter is a massive waste of time... especially when things like "blip.fm" get involved and people are tweeting every frickin' song they listen to (Why should I care about your bad taste in music? Do people actually click on blip.fm links?). Or, even worse, those who live-tweet television shows and sporting events. Why would I want to read tweets about something I don't even want to watch? Or, if I am watching, I ALREADY KNOW WHAT'S HAPPENING AND DON'T NEED TO READ ABOUT IT! Factor in other annoyances like re-tweets, private conversations, and Follow Friday (SERIOUSLY, IF I WANT TO KNOW WHO YOU FOLLOW, I'LL VISIT YOUR FOLLOWERS PAGE!)... and Twitter is mostly noise anymore (don't even get me started on blog post announcements which announce posts that I've ALREADY READ from a webfeed subscription). Bleh. I wish I wasn't so addicted to Twitter. My life would be a lot simpler.
• Twitterer. But now the ultimate Twitter annoyance has struck... TWITTER GAMES! I keep getting "SpyMaster" invitations, and it's only a matter of time before "Mob Wars" invades. This may very well be the last straw for me. If I can't find a Twitter client that gives me the ability to filter out all the distracting shit that is clogging up my feed, I may just give up. Or unfollow a couple hundred people.
And now I really need to catch up on some sleep. If you've already seen Up, and want to read me nit-picking over this excellent movie, that's in an extended entry...

As I said, I loved Up, and I do realize that you have to suspend belief when you're dealing with flying houses, talking dogs, and the like... but there were a few areas which could have been improved.
Russell missing. At no time was there any mention of Russell being missed back home. Due to cartoon time compression magic, the entire adventure apparently took place in three days, but even that would be long enough for Russell's mom to freak out and call the police. Couldn't they have inserted a few lines somewhere to deal with this?
Mr. Fredricksen. We need to find a way to call your parents so they don't worry about you.
Russell. They won't worry. They think I'm on Wilderness Scouts camping trip.
Mr. Fredricksen. Then why aren't you on a Wilderness Scouts camping trip?
Russell. I skipped it so I could get my "Assisting the Elderly" merit badge!
Carl Fredrickson assault. On top of kidnapping a minor and child endangerment, Mr. Fredricksen got sent to a nursing home to avoid assault charges. Now, I don't expect this kind of thing to get dealt with in a child's cartoon... but they could have easily inserted a couple of newspaper clippings in the end-credits montage showing that Mr. Fredricksen was welcomed back as a hero for uncovering the Carles Muntz mystery. This would imply that his crimes were forgiven, and he was free from his nursing home incarceration.
Dogs flying planes and cooking food. And here's the thing that bothered me most. Rather than having actual talking dogs, the writers came up with the "Dog Translator Collar" to let Muntz's super-smart dogs communicate. While unbelievable, it worked really well within the context of the story, and added a note of believability to dogs being able to talk. Even so, at their base core, all the dogs were shown to act just like real dogs, so it all kind of "just worked." But when Muntz had his dogs fly attack planes to destroy Fredricksen's house, the dogs ceased being "just dogs" and things went too far. At first I tried to explain it away as if the planes were drones that flew themselves, and the dogs were merely gunners, but even that seemed over the top. Surely the writers could have eliminated the doggie fighter pilots and doggie chef to maintain some kind of internal logic as to exactly how "dog-like" these creatures are? Both scenes sabotaged all the hard work that went into making the whole "talking dog" thing seem "real."
Admittedly, none of these things are deal-breakers, I just think they could have been handled in a way that better maintains the internal integrity of the film.