I am quite possibly the greatest person to have ever lived, and will undoubtedly continue to be so until the end of time.
I put that out there because the blogosphere seems to be all introspective and analytical on themselves lately, and I thought that I'd jump on board. It's easy for me because I am so sublimely perfect. I don't shy away from taking a deep, penetrating look at myself because the outcome is always the same... I am a really terrific person. Smart, funny, witty, charming, clever, accomplished, loyal, logical, creative, kind, helpful, friendly, trustworthy, humble... they're all words you could use to describe me, and the list goes on and on. It just doesn't get much better than me.
But I'm boring you with things you already know.
Not that I could ever be boring! Heavens no! I'm just being redundant.
Though I'm not being redundant because I don't think you're smart enough to get it the first time around... perish the thought! You're nifty! I like you! And coming from a person like me, that's saying a lot. You should feel really special. Because you are special. I like you, so how could you not be?
If I have one failing, it's that I'm too giving.
I'm a giver.
Just look at this blog! I write here every day because people demand it. People just love me, and who am I to deny sharing a bit of myself with them? But I don't need to tell you that. You're here reading this, so you already know how much you love me!
Guess I should add "modest" to the massive list of traits that describe how great I am.
Now if only somebody would build that fifty-story monument to my awesomeness that I've always wanted, we could all move on with our lives... secure in the knowledge that future generations will be able to partake in my legacy of greatness...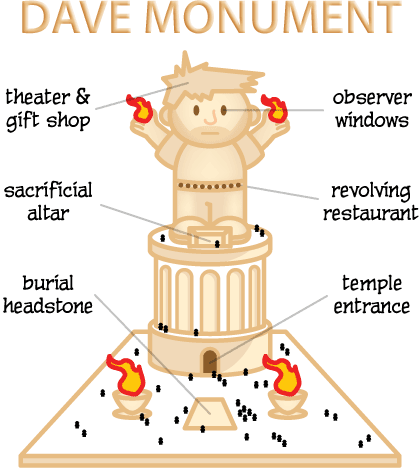 Now, don't you feel a little better about yourself because you've read Blogography today?
Sure you do! Life is good because I'm in it!
One last thing before I go... does anybody know where my car keys are? I could have sworn I had them when I drove home from work...
UPDATE: DING! DING! DING! DING! We have a winner...
An unapproved comment has been posted on your blog Blogography, for entry #3612 (Idiopathic). You need to approve this comment before it will appear on your site.

I think you're having an allergic reaction to your ego. Good luck with that.

Commenter name: True
Commenter email address: whatever@fu.com
Commenter URL:
Commenter IP address: 204.120.18.81
Thank you clueless anonymous commenter in Minnesota! I was beginning to think that we wouldn't get that one person who has no concept of sarcastic humor!