Happy Veterans Day! To everybody who has served or is currently serving in our country's military, I offer my heart-felt thanks. It really should be Veterans Day every day of the year!
I've made no secret of my love for a very worthy cause which helps to bring a bit of "home" to American serviceman and servicewoman on duty far away... AnySoldier.com With this wonderful website, you can send a little care and support to a Soldier, Marine, Sailor, Airman, or Coast Guardsman who puts their life on the line every day in service of our country.
Even if you can't afford to send a care package, a hand-written card or letter of support would mean an awful lot to somebody who is missing their home, friends, and family. And never underestimate how good it will make you feel too!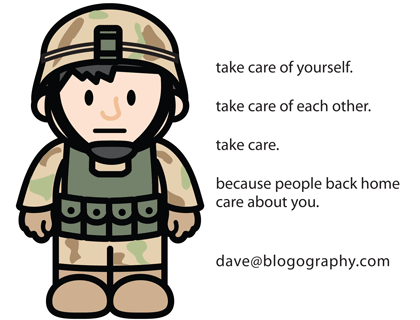 If you would like to participate, the AnySoldier.com website offers a wealth of information on how to go about it (I've also written up some helpful hints here at Blogography).
Thanks again, Veterans!