Blaaaaaaarrrrrrrgh!
It's 11:00pm and I just finished the last of the orders I can fill from the Artificial Duck Co. Store. Basically, if your order doesn't have playing cards, it will ship tomorrow (that's 106 orders total). If your order does have playing cards... hopefully they will arrive when I get back from Atlanta so I can ship all remaining orders then. If the playing cards aren't waiting for me when I get back, they'll have to ship when I return from San Diego. So... barring any catastrophe (e.g. the plane carrying my cards crashes into the Pacific Ocean) all orders will have shipped by the end of the month!
Thanks so much to Artificial Duck Co. customers for your patience.
I had no idea that when I decided to make my own playing cards that it would be such a big frickin' deal. I foolishly assumed that the three months I spent drawing them would be the hard part. How wrong I was. I've now gone through three different companies and have experienced every conceivable problem... twice... since I placed my first order for them BACK IN FEBRUARY!!!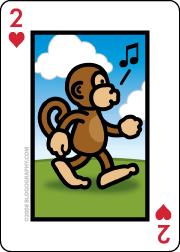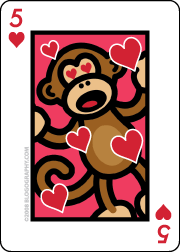 Given the total disaster I've had trying to get my playing cards manufactured, you can understand why I'm already getting merchandise ideas together for my Blogiversary VI celebration next April. Two of the items are just killer, and I hope they work out because I want them pretty bad (even though they'll probably bankrupt me to have them made).
And now it's time to pack my suitcase.
I sure hope I can get even a few hours sleep tonight.