Running out of new ways to say FAIL!
After my three previous failed attempts of getting a Streamliner Burger from Johnny Rockets, I played the odds and figured that my luck was bound to change. They can't ALL be out of soy burgers ALL the time? And this is a TUESDAY when they must surely have gotten their supplies in for the week.
So I take a very expensive taxi ride from my hotel to the Southcenter Mall's Johnny Rockets for dinner. I sit at the counter and wait to have my order taken. I order my usual vegetarian-safe Streamliner Burger with no grilled onions and no mustard. Then grit my teeth as I hear my waiter say...
"Hey, are we still out of Boca Burgers?
It was all I could do to stop myself from seriously jumping over the counter and choking the shit out of everybody with a Johnny Rocket's apron on.
But, much to my shock and delight, the answer was "yeah, we got Boca!"
Score!
A short while later my burger arrives and I start chowing down on it. But something's not right... it tastes... off. At first I tell myself that the lettuce must be funny and keep eating. But then, as I am half-way through, something falls out of my burger. And it looks like a piece of mushroom. WTF? That's when I pull the bun off and see that it's not brown like a Boca Burger usually is, but kind of a yellowish color. Oh shit.
IT'S NOT A 100% SOY BOCA BURGER AS THEIR MENU STATES, BUT SOME KIND OF RICE & GRAIN MUSHROOM BURGER!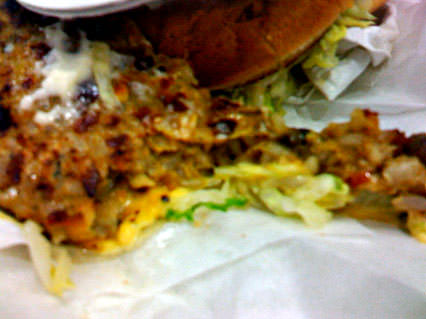 And have I mentioned that I AM FUCKING ALLERGIC TO MUSHROOMS??!
Even if I could eat mushrooms, the burger was pretty gross. My best guess is that it's a GardenBurger "Savory Mushroom" patty... or something like it.
Fortunately, the amount was not enough to kill me, but it was definitely enough to make my throat swell up and cause me to have some serious gastrointestinal distress for the rest of the evening. So much for going to a movie tonight. FUCKERS!
I just don't get it. I have gone to Johnny Rockets and been denied a Streamliner Burger in San Francisco (twice), Santa Monica, Seattle University Village (twice), Seattle Pike Place Market, Seattle Pacific Place, Miami Aventura Mall, and Kent Station. And now Johnny Rockets Seattle Southcenter tries to kill me with an unannounced mushroom burger substitution. Why the fuck do they even offer a soy burger if the person in charge of inventory can't be bothered to keep it in stock or confirm they received the correct item? Who the fuck puts an item on their menu that you can only successfully order 50% of the time?
Johnny Rockets. The very definition of EPIC FAIL...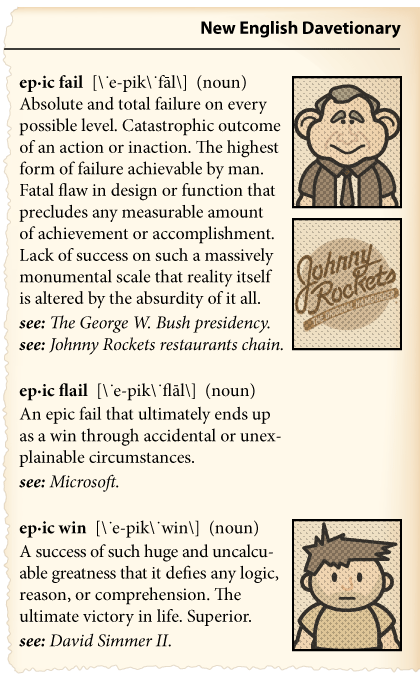 What's funny is that the waiter seemed completely unconcerned when I told him about the problem. He credited me the amount of the burger (still making me pay for the fries and a Coke), but that was it. As far as I know, he didn't even bother to follow-up with the kitchen staff to tell them they had the wrong burgers. And, as always, no offer whatsoever of any restitution... no free burger coupon for my next visit... nothing. I didn't even get a "hope you don't die."
The real shame here is that my favorite food on earth is a Johnny Rockets Streamliner Burger with no grilled onions and no mustard. And I'm not joking when I say that I would eat them morning, noon, and night if I could. It would be easy to say "I'm never eating at Johnny Rockets ever again," but I just can't do it. I will continue to eat at their restaurants knowing full-well that I'm setting myself up for disappointment and possible death by doing so.
In the meanwhile, I am waiting for somebody... anybody... to explain to me why it's so impossible to keep a FROZEN item in stock. It's not going to spoil... IT'S FUCKING FROZEN! It's not going to go to waste if you over-order... IT'S FUCKING FROZEN! It's easy to make sure you never run out of something... BECAUSE IT'S FUCKING FROZEN!! DO YOU NOT UNDERSTAND THAT IT'S FUCKING FROZEN?!? I am flabbergasted beyond all reason as to why this is such a huge problem. It make no sense at all... and yet it's consistently fucked up no matter which Johnny Rockets location I try.
What's beyond EPIC FAIL?!?