It's a mini edition of Bullet Sunday after a very long week.
• Sick & Tired. I am so exhausted from work this week that I'm becoming physically ill. So many things need to be done before I leave again... yet there simply isn't enough time to do them, and too many little details are slipping through the cracks. I haven't picked up my mail in so long that the post office probably thinks I'm dead. I have dry cleaning that has been sitting at the cleaners for months. My friends never see me, and I'm sure many of them are starting to question whether I even exist. If it weren't for this blog, even I would question whether or not I exist. And yet there's three more months of this left to go. It's times like this I question whether I'll be able to survive it.
• Re-Scheduled. I've lost track of the number of times my various travel itineraries have been changed over the past three months, but it just keeps getting uglier. Rumor has it that things will get much worse after labor day, as airlines scramble to cancel as many flights as possible to slash operating costs. I'm already having to fly out a day early for an overnight layover on three trips... now I've found out that I'm going to have to have an overnight layover on two more coming back. Just how much worse can it get? I'm afraid to even speculate. From what I can tell, the days of being able to schedule back-to-back trips on airlines are quickly disappearing. This is going to cause serious problems for me, and I can't even begin to think about how I'm going to deal with it. Maybe if I don't think about it, the problem will just go away? I can dream.
• Laughably Unfunny. I overheard somebody being told that not only was it possible for them to complete their work assignment on time... it was "impossibly possible." The guy on the receiving end didn't bat an eye and replied "In that case, I'll get it to you as quickly as impossible," which made his supervisor very happy... probably because he was just stupid enough not to over-think it: "See what happens when you put your mind on something?" ON?!? I can only guess his mind was on drugs.
• Mobile Maybe. Apple's $100-per-year ".Mac" service sounds like a dream come true. It's an online place to synchronize your address book, web browser bookmarks, email, calendar, and there's even room left over for file storage. No matter which of your computers you are using, you can rest easy that all your information is up-to-date, because everything is coordinated online by the ".Mac" server. At least that's how it's suppose to be. Unfortunately, reality is very different from the fantasy they sell you. The file storage is unbearably slow and freezes your computer (rendering it useless)... the syncing has NEVER worked properly... email is faulty and unreliable... basically, ".Mac" is a steaming pile of shit. Apple knows it's a steaming pile of shit, so they've introduced a replacement now called "MobileMe" which is a better, bigger, faster version of ".Mac"...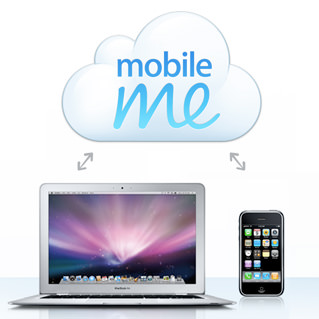 Yeah, still a steaming pile of shit! In fact, I'd go so far as to say that "MobileMe" is the biggest disaster I've ever seen from Apple. Not only does it not work... AT ALL... because Apple's servers are overloaded most of the time, but in those rare instances that it can connect to the server, IT STILL DOESN'T WORK! The entire service, from top to bottom, is plagued with troubles. I could go on for pages about the problems (which would only make me more angry than I already am), so let me give you just one example of how bad it is: When you enter your "MobileMe" identity into your iPhone, the last character is truncated. It took me HOURS to realize that my connection problems were because the last character of my login was being removed. I finally worked around this by adding an extra character to my identity (which was then truncated), but WHAT THE FUCK?!?? Did anybody bother to beta test this crap? Anybody?
• Mobile Misery. Okay, I just can't let this go... did I mention that I am PAYING for the MobileMe service? Perhaps these problems would be excusable if it were provided free, BUT I AM PAYING FOR THIS SHIT!! I am certain that Google Mail (a free service) has a shitload more people using it than are using "MobileMe," and yet how often does it go down? Now that I think of it... Google Mail has never crapped out on me. This is absolutely pathetic on Apple's part, and I hope that they have a plan for compensating their users for this bullshit. Assuming I ever get it to work in the first place, of course. Man, I never thought I'd find myself longing for the "horrible old .Mac days."
And on that perky note, I'd better get back to work...