Seriously... five years? FIVE YEARS?
I already rehashed the early history of Blogography for Blogiversary 2, which you can read here, so I won't be going into all that again. I did consider reinventing my history with colorful lies so it would be more interesting, but my early entries suck so bad that nobody would believe it.
In any event I have been blogging for five years now, and that's reason to celebrate!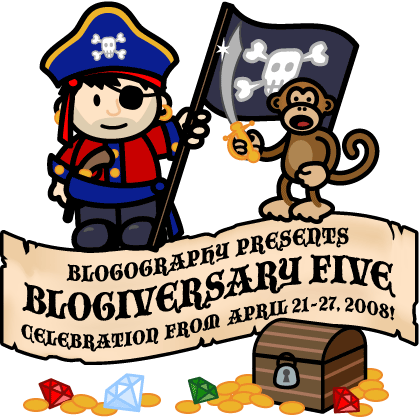 Just like my previous Kick-Ass Blogiversary Celebrations, I'll be giving away hundreds of dollars worth of booty (along with a few surprises) over the next four days, so be sure to check back and enter! Here's the schedule of events...

Unfortunately, past experience has taught me that there are always dumbasses who try to spoil things, so I am compelled to waste the first day of my Blogiversary posting a bunch of rules so I can (hopefully) anticipate any ass-hattery that might ensue from giving away free stuff. Have fun with that!
OFFICIAL BLOGOGRAPHY KICK-ASS BLOGIVERSARY 5 CELEBRATION CONTEST RULES...
All four contests are open to everybody but, in order to reward my regular commenters, some contests require you to answer a set of questions about Blogography if you don't have a minimum number of comments. It works like this...

Everybody who enters for the day's prizes has their name added to a hat.
I draw a name out of the hat for each prize.
If the drawn name has the required number of comments, they win the prize.
If the drawn name doesn't have the required number of comments, their answers to the questions are graded. If they didn't answer the questions, their name is discarded and I draw again. If they didn't get enough answers correct, their name is discarded and I draw again.
I don't keep track of how many comments you leave, and won't check unless your name is drawn for a prize. If you need to find out, you can always use my search page. Just type in the name you comment under and select "Search Comments Only" from the drop-down box. When in doubt, answer the questions... you aren't penalized for doing so.

Each daily Grand Prize has world-wide shipping included. Runner-up prizes do not include shipping charges, and you'll have to pay the exact shipping costs to collect your winnings. PLEASE NOTE: At no time are duties and taxes included in the prize! If you live in a country which levies duties and taxes on inbound foreign shipments, you have to pay them.
All prizes are awarded at my discretion and all my decisions as to awarding them are final. That being said, I don't cheat. Whoever wins, wins (unless they die, change their mind, or don't respond back when I notify them).
Most prizes are NOT available for immediate shipment because this is all custom-manufactured merchandise! I do not order new stuff until it has been pre-sold for a minimum of three weeks (so I know how much stuff to order). Merchandise is usually created and arrives at the end of May and is available for shipment in June. So if you are expecting immediate shipment of your winnings after Blogiversary 5 Week, please don't bother entering. I will make every effort to send the prizes exactly as described or shown. However, if due to unforeseen circumstances I am forced to make a substitution, I reserve the right to do so. Sorry, but winners are not allowed to request a cash prize or make substitutions.
Winners will be announced here on Sunday, April 27th using their first name and last initial. If you would prefer to be identified by a nick-name, it's not a problem... just let me know when you send in your entry. Winners will be notified via the return email address in their entry (please make sure your address is valid!).
All contests are void where prohibited or illegal. If you live in such a place, you really should move to someplace that's more fun. :-)
And now, on with the show...