THIS CONTEST HAS CLOSED! LOOK FOR THE WINNERS ON APRIL 27th!!
I started creating T-shirts for my blog because I wanted them for me. It was never my intention that anybody else would wear them. I'm selfish that way. But after writing about my idea, I found out that many of my readers wanted the T-shirts too, so I created my first T-shirt on the occasion of my first blogiversary. It was a simple design with Lil' Dave in a box with "Blogography" printed below it, and I ended up selling 26 of them. Given the number of readers I had at the time, this was a huge success, so I decided to do a new design when Blogiversary II came around... this time with Bad Monkey on it. I sold 51 shirts, almost double what I had done the year before. I remember being dumbfounded, because I didn't even know that I had 51 readers.
A tradition was born. Every year there would be a new Blogography T-shirt. For Blogiversary III, sales more than tripled to 170. Last year I released four new designs and ended up selling and giving away almost 400 shirts. Insanity.
Part of the reason the shirts are so successful is because they are quality screen-printed with fun designs.
But mostly they're popular because they're cheap. I sell the shirts at a price that's just enough to cover my costs (though last year I did a bad job of estimating foreign postage and ended up losing several hundred dollars!). I'd rather sell my shirts as inexpensively as I can so everybody can afford them. It's more fun that doing it for the money.
Anyway, since everybody did such a great job of helping to pick a design last year, I'm going to put it up for a vote again this year. Not only is it helpful to know what everybody wants, but it allows me to keep prices cheap since I can order in larger quantities. I originally gave all voters a $10 off coupon so they could get a cheap shirt... but response was so great that I was able to offer the $10 off all year long! Hopefully I can offer good discounts again this year.
Here are the selections you can vote on...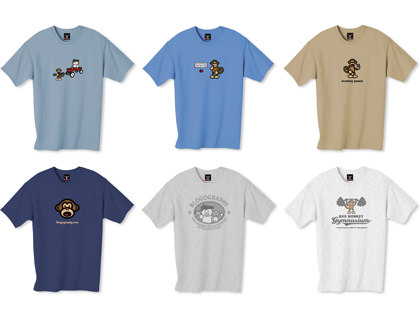 Hmmm... that's a little small. Let's try zooming in...
Shirt #1: BAD MONKEY GYM.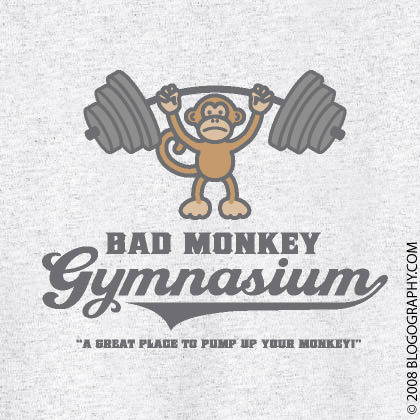 Shirt #2: BAD MONKEY GIANT HEAD.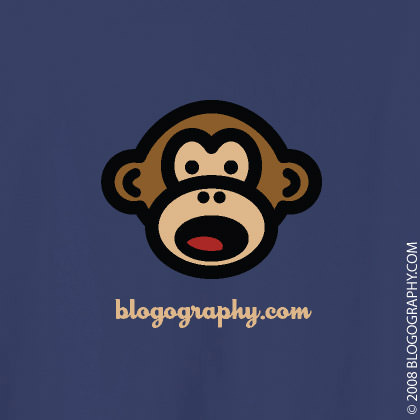 Shirt #3: FINE READING.
Shirt #4: RED WAGON.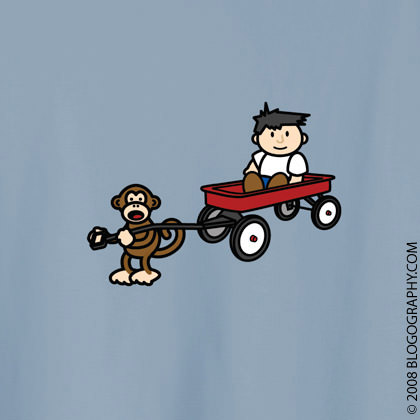 Shirt #5: MONKEY PEACE.
Shirt #6: MONKEY BUTTON.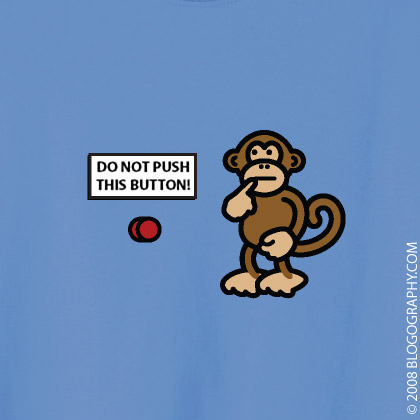 And now for today's prizes!
GRAND PRIZE DRAWING...



Three Artificial Duck T-Shirts ($51 value). Yep, that's right, get any three shirts you like from the Artificial Duck Store... keep them for yourself, or give them out as gifts that will impress those lucky people you deem worthy of wearing them!



Six Sets of DuckyButtons ($24 value). Pick any six sets you like, or create your own 5-button sets. DuckyButtons are sure to bring a smile to your face... or to anybody else's you meet when you wear them. And since you're getting 30 buttons, that's a month's worth of sweet wearable art to wear and share!



Twenty-Five Custom-Made DuckyButtons with Your Design ($25 value). Email us any one design or photo you like, and we'll turn it into 25 beautiful custom buttons of your very own! Use them to promote your blog, impress your friends, or distribute wearable pictures of your cat... so long as it isn't copyrighted, we'll make buttons from whatever you want!



World-Wide Shipping (up to $35 value). No matter where you live on planet earth, rest assured you won't have to pay a dime to claim your prize because shipping is included.

And that's not all, today you also have twenty other chances to win...
RUNNER-UP PRIZE DRAWING (TWENTY WINNERS!)...

One Artificial Duck T-Shirts ($17 value). Twenty lucky readers will be able to pick any shirt they like from the Artificial Duck Store, and be happy knowing that they'll be wearing a T-shirt that makes them at least 10% hotter the minute they put it on!

One Set of DuckyButtons ($4 value). Your choice of one set of super-sweet DuckyButtons in whatever designs you like to wear and share!

SHIPPING NOT INCLUDED! YOU WILL HAVE TO PAY EXACT SHIPPING CHARGES TO COLLECT YOUR WINNINGS!
AND NOW FOR THE RULES...
Everybody can enter! There's no minimum number of comments you have to leave in order to have a chance at winning. All other rules specified on Day One apply. Please remember that shipping charges are ONLY included with the Grand Prize. Winners are responsible for all duties and taxes that might apply.
HOW TO ENTER...
THIS CONTEST HAS CLOSED! LOOK FOR THE WINNERS ON APRIL 27th!!
PLEASE NOTE...
As with all of the new Blogography stuff presented this week, the shirts will be printed sometime in May for Delivery in June. This will give me time to accept pre-orders and figure out how many pieces I'll need to have printed. Winners will be announced on Bullet Sunday 79 on April 27th, and the Artificial Duck Store will reopen at that time so everybody who wants to buy stuff can get their orders in.