• Despite having way too much work, I made time to go see The Prestige, because it's a film by Christopher Nolan. I thought his Batman Begins was the best of all Batman fims. Insomnia was a little dull, but still a good movie. Memento was sheer genius, and I've lost count the number of times I've seen it. I had high hopes for The Prestige, and was not disappointed. The film, much like a magic trick, is a delicate balance. The trick is putting in enough clues to make the viewer have an idea of what's happening, but not so many that the viewer figures it out too early. Sadly (just like The Sixth Sense) I had everything figured out before the end, but managed to enjoy the film quite a lot anyway. I wish I could detach myself from movies like this enough to get fooled, but it doesn't ever seem to be...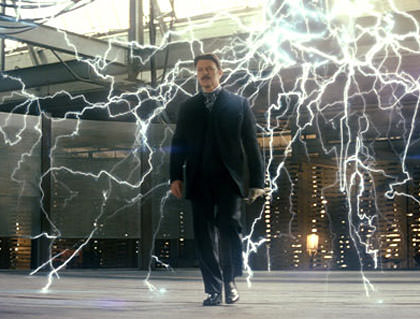 The Prestige is a film about rival magicians (played by Hugh Jackman & Christian Bale) and their ever-escalating obsession to be the best. Along the way there are some surprising turns, shocking twists, and clever casting (David Bowie?). This is one of my favorite films this year (despite being inexplicably slow in parts). I was surprised to see that it was based on a book by Christopher Priest, who wrote the totally brilliant book The Affirmation which I read years ago. To say I'm dying to read the original novel after seeing the movie is an understatement.
• Speaking of totally brilliant books, I've been reading my new DC Absolute Edition of Neil Gaiman's The Sandman. The volume is absolutely beautiful (looking much like Destiny's tome!) and has raised the bar for future Absolute releases. I've read that eventually all Sandman books will be given the Absolute treatment (four volumes in all) and hope that this includes the Death mini series... Chris Bachalo's stunning art would be amazing when blown up to a larger size! Highly recommended.
• In other movie news, I finally ended up renting Bride & Prejudice (the Indian remake of Pride & Prejudice) so I could see the brutally hot Aishwarya Rai in an English film because, well, damn...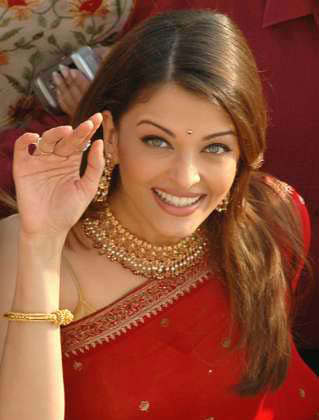 I'm not much into musicals, but having the delicious Miss Rai around made up for a lot of cheesy song and dance numbers. One surprise... Naveen Andrews has a notable role that is very different than the brooding Sayid on Lost.
• As if Washington State's absurd "Say WA Campaign" wasn't embarrassing enough... Seattle has a new campaign of absurdity all its own... "Metronatural" for which they spent a hefty $200,000 and SIXTEEN MONTHS to come up with. And now they're going to blow $300,000 promoting it, which is odd, because I'd spend $600,000 to erase all traces of it ever existing (assuming I had $600,000 burning a hole in my pocket). What the heck does "Metronatural" say about Seattle? How is "Metronatural" going to inspire anybody to see Seattle? It's utterly bizarre, and sounds badly dated. The sad thing here is that Seattle is a remarkable city with a lot going for it, and I worry that "Metronatural" may actually have the opposite effect of scaring people away.
• My ENORMOUS PHONE is starting to go flaky, which means it's time to look for a new mobile. That's kind of a bummer, because I thought I'd have time to wait for Apple's iPhone to debut. But with no release date in sight, I've had to look elsewhere. At first I wanted the beautiful new Motorola KRZR, but that was before I found the ultra-sweet LG Migo...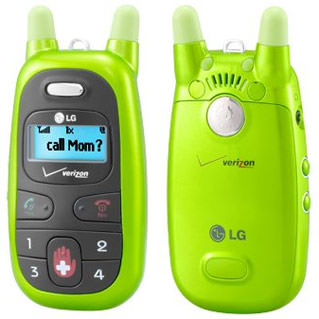 How cool is that? It looks kind of like Shrek! So I get all excited and am determined to get one when I read on and find out that it is a phone for kids, and doesn't allow you to dial anything except four pre-programmed numbers and 911. How crappy is that? So now I am going to have to find something else. Bummer.
• After watching a few snippets of Kylie Minogue's Showgirl concert on BBC America and writing about it, I decided to take up the advice in my reader comments and rent the DVD. It was... uhhhhh... interesting. Mostly because Kylie is a very entertaining performer... but more so because the show has obviously been created for an audience of women and gay men. There is so much man-candy piled on her stage that I turned at least 10% more gay just from having watched it...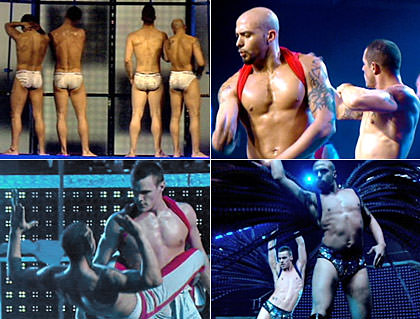 There's also quite a bit of Kylie's remarkable =ahem= assets shown as well, so all is not lost...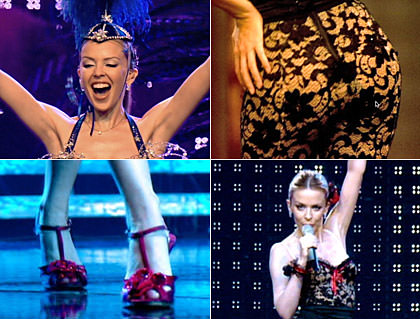 OMG! Aren't those red shoes just like totally the most fabulous thing ever? I'd kill or die to have the calves you need to pull off that look!
Uhhhhh... okay... maybe that would be 15%...