After hearing the phrases "...was completely destroyed" and "...all the people were killed" repeatedly over a four hour period, you'd think that they would start to lose their meaning and you would become numb to them. But of course you don't... you only wish you did.
Ultimately deciding it would be much easier to take an organized tour than to attempt to navigate Warsaw ourselves with no Polish language skills, Perry and I hooked up with a small tour company recommended by the hotel. Our guide was amazing and, since there were only six of us in the group (all of whom were nice and well-behaved), I didn't want to shoot myself like I usually do in organized tours.
The long and tragic history of Poland would be enough to make you fall into despair if not for the astounding resilience of the Polish people themselves. At every turn, and under unimaginable conditions, the Poles have chosen to be inspired by their past instead of be beaten down by it. The country has been invaded and divided multiples times (and was even erased off the map completely at one point) but still endures. Who could blame anybody for taking inspiration from that?
The tour started in Park Łazienkowski which features one of many statues of Józef Piłsudski, who is largely responsible for Poland regaining independence after over 120 years of being divided up amongst neighboring countries...
The statue is a pretty incredible work of art, accurately portraying Piłsudski as the contemplative leader he was. Despite some later controversy he is still very much in the heart and minds of Poland, and rightfully so.
Continuing through the park, we came across "The Palace on the Water" which started out as a Turkish bath house but was ultimately expanded and remodeled by Poland's last king, Stanislas August Poniatowski. Photos weren't allowed inside, which is unfortunate, because the craftsmanship and art collection is astounding (which belies its rather plain exterior). Much of the palace was destroyed by the Nazis in retaliation for the Warsaw Uprising in 1944. But unlike most historic buildings that were eradicated in the systematic destruction of Warsaw, the palace managed to survive and has been restored as best they could. Out front I found a sundial which made for a nifty vantage point...
After a very cold walk through the park, we headed to the Jewish Ghetto which was established by the Nazis during World War II. It was here that Jewish natives were confined in unimaginably harsh conditions. Those who did not die from disease and starvation were relocated to concentration camps, extermination camps, or murdered outright on the streets. Over a three year period, the population dropped from 450,000 to 70,000 people, and it became clearly evident to those interned in the ghetto that the only thing awaiting them was annihilation. This led to the Warsaw Ghetto Uprising, which was the first civil uprising of the war. There was no hope... NO hope... of victory, and the fighters knew that any resistance would be futile, but they wanted to die for a reason instead of being mindlessly exterminated. Ultimately this led to the complete destruction of the ghetto, as 56,000 Jews would lose their lives after three months of struggle. This is remembered by Warsaw in the "Monument to the Ghetto Heroes" at the site...
From there we headed toward "Old Town" Warsaw, stopping next to the "Monument for the Fallen and Murdered in the East." This sculpture has dozens of crosses stuck to a rail car, symbolizing all those who were transported to the east and murdered in Russian camps under Stalin. Poland just can't catch a break, at first thinking that the Russians would help them against German invasion, but was instead ultimately persecuted by them as well...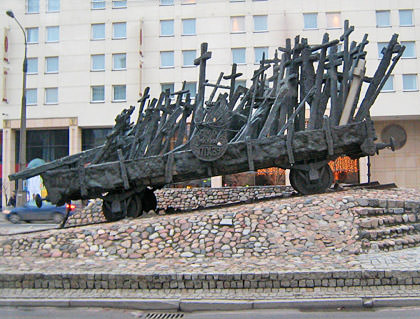 There's another heartbreaking monument outside Old Town's medieval walls that commemorates the children who fought during the Warsaw Uprising...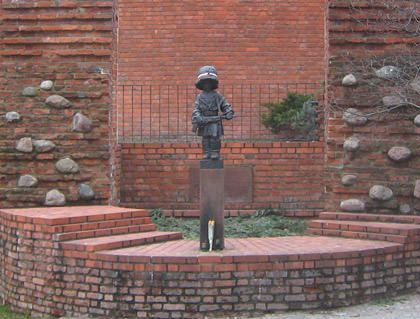 Like much of Warsaw, Old Town was systematically destroyed by the Germans as a punishment for the Warsaw Uprising. After World War II had ended, the people of Warsaw decided to rebuild Old Town as close to the original as they could using old paintings and recovered artifacts as reference. The result is an exquisite reconstruction that just seems to get more beautiful as the day wore on...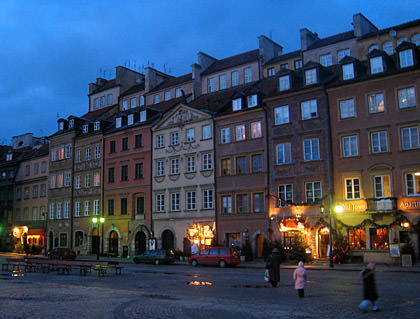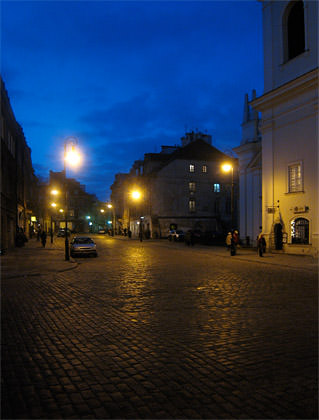 And thus ended our short tour of the city.
Tomorrow I absolutely want to return to Old Town and the many shops that line the main square there. Three days in Warsaw isn't even going to scratch the surface.