Thanks to everybody who sent me e-cards and kind notes over Elizabeth Hurley's wedding today. Thirty-six of you were nice enough to send your condolences, which was a bit unexpected (that's more people than usually comment on an entry!).
In an act of sublime selflessness, I wish nothing but the best for the happy couple. If Elizabeth Hurley is happy, then I'm happy... I love her that much. I mean, it's not like I am wishing for a building to fall on her new husband or anything. I'm sure he's a terrific guy, and I'm glad she found him. I suppose I could sit around hoping that Arun Nayar gets attacked by a pack of wild hyenas, but what would be the point? Elixabeth Hurley has made her choice (misguided as it may be) and I will just have to live with it. Best of luck to the happy couple!
Okay, maybe I don't wish "the best" for them... that's a little much. But I do wish that good things come their way. Just because Elizabeth Hurley decided to marry a guy who is not me doesn't mean that she should be cursed with unhappiness the rest of her life. Does it? Maybe he's not perfect or anything, but he seems nice. So good luck you two!
Alright, you got me. Being completely honest here, wishing "good things" for Liz and Arun is probably a stretch. How about I just send happy thoughts with no well-wishing at all? Sure Elizabeth Hurley just made the biggest mistake of her life, but it's not really her fault. If she had ever met me, she would realize that I was the perfect guy for her... but since she had the misfortune to never even know I exist, well, it's hardly appropriate for me to be wishing Arun fall down a well or something. That would just be wrong. He doesn't seem like the nicest of guys, but I'm sure he's not too bad.
Okay... okay... okay... sending "happy thoughts" is probably going too far. Because doesn't Arun Nayar look like a total bastard? I've never met him or anything, but doesn't he just seem completely wrong for her? He's probably a puppy-kicker. Yep, I'll bet when he sees a puppy he kicks it as hard as he can just because he likes it. And the perfection that is Elizabeth Hurley just married him in an unholy union that will wreck havoc throughout the known universe. Why should I wish anything "happy" for their marriage when there's nothing happy about it? We're all doomed.
OMG! What has she done? RUN LIZ! RUN FOR YOUR LIFE! YOU JUST MARRIED A PUPPY-KICKING ASSHOLE!! Oh the humanity! I suppose I'll just have to hope that Liz manages to break free of Arun Nayar's evil spell before something horrible happens... like her sleeping with him. Oh! Oh! Oh! That would be just terrible! Like the worst day ever! Is it too much to hope that Elton John has a gun in his purse and will destroy the Ultimate Evil that calls himself "Arun" before the incomparable Elizabeth Hurley is lost to the world forever?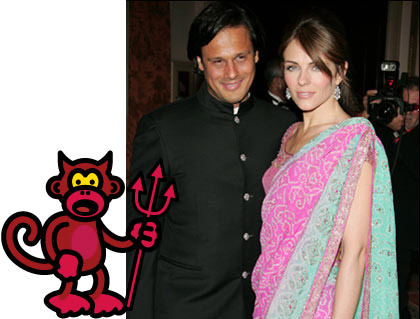 Gee... I hope that nothing happens to the plane that is taking Elizabeth Hurley and her new husband to India. It would be just terrible if it crashed and Arun were to perish while Elizabeth Hurley were to miraculously escape completely unharmed. Yeah, let's all hope that doesn't happen.
Ahem.
Speaking of pure evil on earth...
I finally got to sleep around 2:30am. Most of my work was finished, and I simply couldn't keep my eyes open any longer. So guess who decided to come calling three hours later and wake me up? That's right. THE EVIL GEESE FROM HELL ARE BACK AGAIN!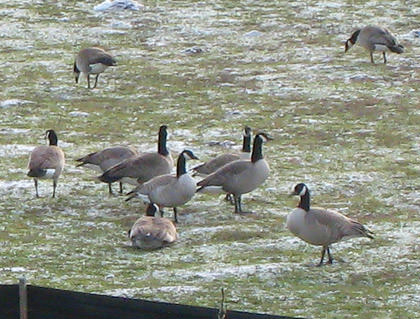 Just look at the cheeky bastards all honking and riled up! Clearly minions of the devil.
And to make the entire situation even more scary, their numbers keep increasing. At first there were a dozen... then around 26... then about 40... NOW THERE ARE 67! SIXTY-SEVEN!! And I realize people think I am exaggerating here, but I'm not. There were so many of them that I had to take a panorama of seven pictures and then stitch them together so that all of the little bastards would fit into the shot...


Click on the image to enlarge. WARNING! May frighten small children!
(you will have to scroll to see the whole thing)
Between Elizabeth Hurley getting married and the startling increase in the goose population, can the Apocalypse be far behind? I'm telling you, geese are going to take over the world.
I, for one, welcome our new geese overlords.
Back to work...