Eyes... won't... stay... open.
It occurred to me as I approached my 16th hour of work today that I need a new line of work. Preferably a career that doesn't exceed an eight-hour work day... with a three hour-work day being optimal.
Perhaps being absolute ruler of a small country might be a good job for me...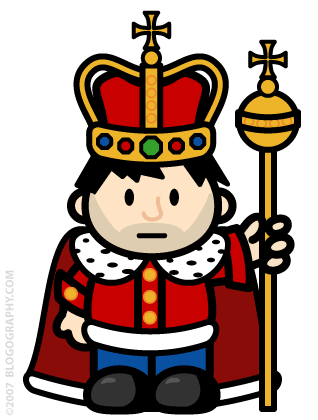 I'm thinking a typical day would include making sweet love to super-models, watching television, playing video-games, partying with foreign heads of state, walking amongst my adoring subjects, and dedicating statues, libraries, museums, buildings, and other stuff that has been named in my honor. And in-between all that I'd make time to fly off to exotic locations and visit foreign leaders so they could bask in my presence (and give me cool presents).
Sure being the exalted ruler of all I survey would be a 24-hour job, but I'd manage somehow. Probably by delegating all the boring stuff to my lackeys.
Hmmm... I have 287 blog entries stacked-up in my webfeed reader, and around 40 emails to read. That wouldn't be so bad if I didn't have at least another two hours of work ahead of me (and eight hours of television on my TiVo).
I wonder how I go about getting a lackey to read my blogs and reply to my emails for me. Is that something you can get on eBay?