Ooh look! I'm all better now. Well, mostly. I still have vision troubles, but at least the headaches and cold/flu symptoms have faded.
Until I open my email and find a lovely note from somebody with "I'M GOING TO SUE YOUR ASS" as the subject line. This is absolutely my favorite way to start the day, because being threatened with legal action is always such a great motivator first thing in the morning. "Hmmm..." I think to myself, "I wonder what I did this time?" Since I don't recognize the name, I'm guessing something in my blog has upset somebody. Having a blog is such a great way to meet new and interesting people!
HOW NOT TO START A LAWSUIT...
1) Have somebody who doesn't like you sneak a photo of you wearing a Bluetooth mobile phone headset.
2) Have this blood-enemy search the internet for a cartoon which makes fun of people who wear Bluetooth mobile phone headsets in public.
3) Have this same person cut out part of the cartoon so they can insert a picture of YOU...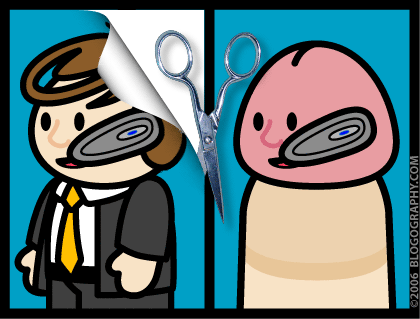 4) Then have this person email everybody in the office with a cartoon which likens you to a large penis.
5) Find out about the cartoon, see that it was copyrighted by blogography.com, then decide to fire off a nasty email threatening a lawsuit because this person you've never even met decided to humiliate you.
6) Get an email back from blogography.com telling you that they have no idea what you are talking about, have no idea who you are, and have never even been to your city to take your picture.
7) After another furious exchange of emails, discover that people who post cartoons on the internet have no control over what other people do with them, then realize you'll have to find somebody else to sue.
8) Cry silently to yourself because you have nothing better to do than threaten complete strangers with baseless lawsuits.
Somebody remind me why I have a blog again?
Oh yeah! It's so I have a place to bitch about things that bother me!
Now that I'm feeling better, I finally managed to watch the second episode of Heroes, and boy does that show suck ass. It puzzles me greatly how so many critics are going ape-shit in love over this show when it pretty much blows. Just like "Odo," the shape-changing alien on Star Trek: Deep Space Nine that rarely changed shape... here we have super-powered people who rarely use their super powers. I guess special effects are still not cheap enough to do shows like this properly. I can only hope that they eventually get a budget and can have people with flying powers ACTUALLY BE FLYING AROUND AND SHIT. So far we've gotten one lame, SUPER-LAME "flying" shot in the first episode which looked so bad I could have filmed it in my back yard... then a "flying" shot in the second episode which wasn't even flying... it was more like floating. LOOK DUDE, I CAN FLOAT!! Bitch, please. Until you are willing to put the money into decent special effects to do the super-hero show right, don't waste my frickin' time...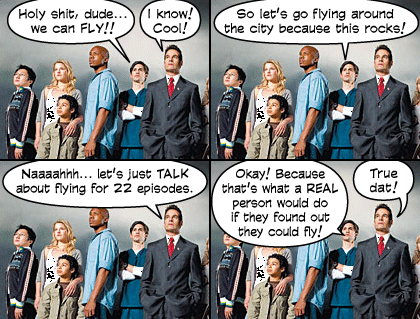 I also love how everybody else in the show conveniently has "powers" which don't require special effects. Notice that there isn't a "hero" who can shoot lightning bolts out of their ass... or a "hero" who can walk through walls... or a "hero" who can do ANYTHING even remotely interesting, because that would require actual visual effects, and we can't have that!
What I want to know is how come an episode of Bewitched which was made FORTY F#@%ING YEARS AGO... BEFORE THEY EVEN HAD COMPUTERS has more special effects shots than an episode of this lame-ass show. Screw this stupid crap. I'm done with "Heroes"... so somebody please let me know if they ever get the balls to actually SHOW super-powers instead of just talk about them for an hour.
Thank heavens for Veronica Mars, a detective who ACTUALLY DOES DETECTIVE STUFF in every episode!! Imagine that!