In addition to migraines, vision problems, and the inability to sleep... I've also come down with some kind of cold/flu hybrid that has necessitated that I take a sick day. Usually I go to work when I am sick because I've always got so much going on. I even went to work with kidney stones because I had a project due (it's amazing what you can accomplish in-between screams). But today I feel so terrible that I simply could not get out the door.
I've always romanticized sick days, thinking that it's a great way to get paid while watching television and playing video games. But the only television I even attempted was trying to find the current episode of Martha because Tracy told me my Elizabeth Hurley was going to be on (which is about the ONLY way I would ever watch Martha Stewart in anything). Unfortunately, the show was already over by the time I managed to get out of bed. I was going to try a game of Lego Star Wars, but I ached so bad that all I could mange was to crawl back into bed with the hopes of getting some sleep.
It was a good plan for about fifteen minutes, but then my downstairs neighbor decided to make fifty trips between his car and apartment... slamming the door so hard each time that my teeth came loose. So here I am checking my email, writing in my blog, and praying for death's sweet embrace to take me from my misery...
... but not before I watch VERONICA MARS tonight on the CW Network at 9:00pm (8:00pm central)!!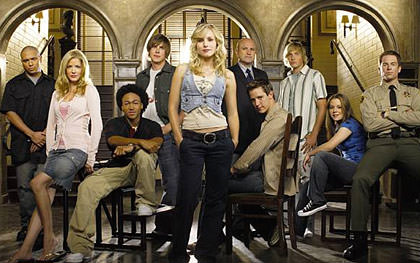 All bow before the best show on television!!
Fortunately, I have a dual-tuner TiVo so I can watch Veronica Mars while recording The Unit which I became addicted to while watching the first season on DVD. I don't normally go for war movies and combat TV, but The Unit is astoundingly good television, and you should check it out if you have a chance.
And, on that note, my neighbor just drove off (squealing brakes and all) so I am going to make one final attempt at sleep before dragging my disease-infested corpse into work so I can at least grab some work to bring back home with me.
Bah... I can't even do a sick day right. Who else but me would want to work on a sick day??