Being sick has given me an overwhelming desire to help others. At first I thought about starting up a medical practice, but I'm too afraid of blood to be a doctor (and, apparently, you need some kind of license to practice medicine). So then I thought about becoming a mental health consultant... that stupid bitch Dr. Laura doesn't have a doctorate in psychology or psychiatry or anything, and she gets away with it just fine. But then you have to listen to people bitch about their problems and who wants to do that?
So I've decided to create my own line of personal care products, but hesitate to do so without getting endorsements from big-name celebrities. In order to entice these famous people to do my bidding, I've decided to create prototype products so that they can see the quality packaging their image will proudly endorse. Here are just a few samples...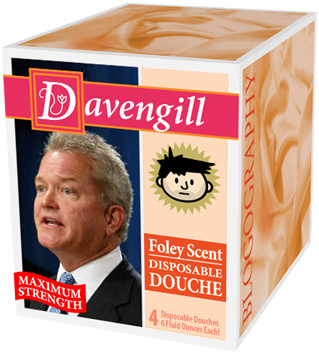 Mark Foley says "stay fresh with the biggest douchebag of them all!"


When you think of an itchy, burning crotch... think David Caruso!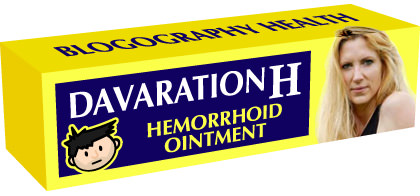 Fight fire with fire... when there's a pain in your ass, reach for Ann Coulter!
I'm still trying to decide if Jared the Subway Sandwich Whore should endorse my "Davepound W" wart remover or my "Davmodium" treatment for diarrhea plus gas. Hmmmm... when you think of Jared, do you think of warts... or diarrhea & gas? These executive decisions are totally harsh...