Why the f#@% do they make clothing out of linen? Can somebody tell me this?
Because I bought this really, really expensive shirt that I liked quite a lot. I didn't bother to look at what it was made out of because... well, so long as it's not made from baby kittens, what the f#@% do I care what its made of? So I get it home, wash it, iron it, then decide to wear it... AND IT GETS TOTALLY WRINKLED AFTER ONLY FIVE MINUTES! Yes, FIVE MINUTES! And all I did was walk in it! Not ON it, but IN it. Yet it looks like I wadded it up in a ball, drove over it with my car, then slept in it while hookers danced on my chest.
Well, actually, if all that happened I wouldn't care so much about the wrinkles, but WTF?!?
If linen is this magical fabric that wrinkles without provocation and looks like shit after only five minutes of wear... WHY MAKE CLOTHES OUT OF IT?!? Why? Why? Why?
F#@% it. From now on I'm checking the label to make sure my shirts are made from 100% baby kitten, because I've never seen a wrinkled kitten. Besides, I think this color would look good on me...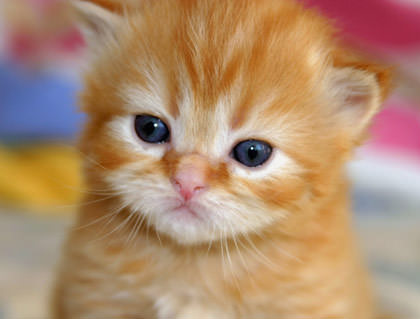 Anyway... thanks to the kindness of a very generous reader with mad MPEG conversion skilz, I was able to watch the Veronica Mars premiere. It was slightly below-par because they had to spend time introducing new characters and locations... but oh so delicious and satisfying. STILL the best series on television (well, I haven't seen the sweet hotness of Tina Fey in 30 Rock yet, but I feel relatively safe in standing by my statement).
In other television news so far... Studio 60 is predictably good. Heroes is mind-numbingly mediocre. Jericho is suitably boring. The Class is inexplicably bad. Help Me Help You is "kill me now" horrifyingly awful.
The biggest surprise this season? Ugly Betty was shockingly good. What I thought would be a klutzy attempt at comedic relief ended up being a fascinating, thoughtful, multi-layered show with elements of drama and mystery to keep things interesting. By the time they got to Robert Loggia's character being involved in some kind of shady dealings behind the scenes, I was hooked. Vanessa Williams as a back-stabbing psychotic bitch editor is just the icing on the cake. Thank you Selma Hayek!
Rargh.
Here kitty kitty kitty...