WARNING: CRANKY PANTS ALERT!! CRANKY PANTS ALERT!!
In an attempt to figure out why I've been plagued with headaches for the past few weeks, I went to the eye doctor today. My vision has been freaky lately, and I'm not sure if it's because of my headaches or if it's the CAUSE of my headaches.
In any event, it involved my eyes getting dilated, so I spent the afternoon like this...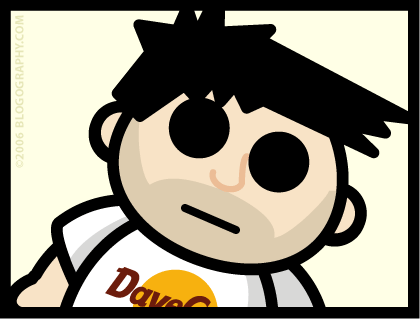 The only thing worse than having your eyes dilated on a sunny day is having to drive home with your eyes dilated on a sunny day. And the only thing worse than that is having to put up with DUMBASS BITCHES while you're driving with dilated eyes on a sunny day.
As you exit the great city of Wenatchee, there is one final stoplight. Just before this stoplight is a Starbucks Drive-Thru. It's the stupidest place in the universe for a drive-thru because you can't get out easily. When the light is green, traffic is flowing heavy with people leaving town and you can't get out. When the light is red, traffic is backed up in front of the Starbucks exit and you can't get out then either. Basically, you can check-in to Starbucks, but you can never leave.
So today I am stopped at this light just before the Starbucks exit. The light turns green and I slowly start to move forward. This causes some bitch who JUST GOT TO THE STARBUCK'S EXIT to lay on the horn (honest, she hadn't even STOPPED yet!). I instantly become enraged because I have a headache, my eyes are dilated, and I don't need some whore WHO WASN'T EVEN WAITING TO EXIT honking at me. If she was in such a big hurry, she shouldn't have stopped for coffee. This is what I scream at her...
I HAVE A GREEN LIGHT AND AM NOT GOING TO BLOCK FIFTY CARS TO LET YOUR COFFEE-DRINKING SHIT OUT, SO WHY DON'T YOU TAKE THAT GRANDE LATTE AND SHOVE IT UP YOUR F#@%ING ASS YOU STUPID BITCH!!!
There's no chance she can hear me. Even with my window down, hers are rolled up AND I'm driving past her as I yell. I know this, but I don't care and decide to yell anyway. It will make me feel better.
But I forgot about the cars in the lane next to me. With their windows down, they can hear me just fine. So when a bunch of people start cheering and honking their horns and waving at me with a "thumbs up" I realize that I am destined to rule the earth. There is no denying that my inspirational words appeal to the masses, and it's only a matter of time before I climb my way to the top... one dumbass coffee-drinking whore at a time.
And because I'm in even a worse mood now that I've had to remember all this crap, it must be time for a meme in an extended entry!
From Avitable, who thinks answering any of these with "President Bush" is entirely too easy...
1. You can press a button that will make any one person explode. Who would you blow up?
Jared the Subway Sandwich Whore. A close second would be either Pat Robertson or Judge Judy.
2. You can flip a switch that will wipe any band or musical artist out of existence. Which one will it be?
Clay Aiken. Just when I think he can't suck any worse than he already does, he releases a new album and sucks even harder.
3. Who would you really like to just punch in the face?
Ann Coulter. Because the stupid bitch so desperately needs it.
4. What is your favorite cheese?
Like Avitable, I like most all cheese. But Tillamook Medium Cheddar would probably take the top spot because I eat it by the pound.
5. You can only have one kind of sandwich. Every sandwich ingredient known to humankind is at your immediate disposal. What kind will you make?
A Dave's Perfect Fried Egg Sandwich.
6. You have the opportunity to sleep with the movie celebrity of your choice. We are talking no-strings-attached sex and it can only happen once. Who is the lucky celebrity of your choice?
Elizabeth Hurley (as if you really need to ask).
7. You have the opportunity to sleep with the music-celebrity of your choice. Who do you pick?
Sharon Corr of The Corrs. Because, well, damn.
8. Now that you've slept with two different people in a row, you seem to be having an excellent day because you just came across a hundred-dollar bill on the sidewalk. Holy crap, a hundred bucks! How are you gonna spend it?
On a bunch of DVDs I want.
9. You just got a free plane ticket to anywhere. You have to depart right now. Where are you gonna go?
The Amalfi Coast in Italy.
10. Upon arrival to the aforementioned location, you get off the plane and discover another hundred-dollar bill. Now that you are in the new location, what are you gonna do?
Eat dinner at Ristorante La Caravella.
11. A demon rises out of Hell and offers you a lifetime supply of the alcoholic beverage of your choice. It is...?
Jäger Bombers.
12. Rufus appears out of nowhere with a time-traveling phone booth. You can go anytime in the PAST. What time are you traveling to and what are you going to do when you get there?
I would really rather not say, because it involves totally destroying somebody before they can f#@% up my life.
13. You discover a beautiful island upon which you may build your own society. You make the rules. What is the first rule you put into place?
If you are unable to drive the speed limit, you are not allowed to drive. If you are unwilling to drive the speed limit, you are not allowed to drive. If your vehicle is not capable of going the speed limit, you are not allowed to drive. If you drive in the passing lane without passing anybody, I get to personally put a bullet in your f#@%ing head.
14. You have been given the opportunity to create the half-hour TV show of your own design. What is it called and what's the premise?
Cupid starring Jeremy Piven as a guy who ends up in a mental hospital because he thinks he's the Roman god of love, and Paula Marshall as the psychiatrist who's in charge of keeping him from going back after he's released. Oh, wait... THEY ALREADY MADE THAT, BUT ABC TELEVISION STUPIDLY CANCELLED IT!! DUMBASSES!!
15. What is your favorite curse word?
F#@%. Accept no substitutes.
16. One night you wake up because you heard a noise. You turn on the light to find that you are surrounded by MUMMIES. The mummies aren't really doing anything, they're just standing around your bed. What do you do?
Go get a glass of water.
17. Your house is on fire! You have just enough time to run in there and grab ONE inanimate object. Don't worry, your loved ones and pets have already made it out safely. So what's the item?
My PowerBook. My entire life is on it.
18. The Angel of Death has descended upon you. Fortunately, the Angel of Death is pretty cool and in a good mood, and it offers you a half-hour to do whatever you want before you bite it. Whatcha gonna do in that half-hour?
That's not a lot of time to do anything really interesting... so I guess I'd jump off a cliff so at least my death would be an interesting one.
19. You accidentally eat some radioactive vegetables. They were good, and what's even cooler is that they endow you with the super-power of your choice! What's it gonna be?
The power to have any super-power I can think of.
20. You can re-live any point of time in your life. The time-span can only be a half-hour, though. What half-hour of your past would you like to experience again?
My first trip to Rome was pretty amazing. I think I'd choose the half-hour I spent walking to The Colosseum for the first time along The Forum. The sun was just starting to set and it was absolutely beautiful.
21. You can erase any horrible experience from your past. What will it be?
Filling out this meme.
22. You got kicked out of the country for being a time-traveling heathen who sleeps with celebrities and has super-powers. But check out this cool stuff... you can move to anywhere else in the world! Bitchin'! What country are you going to live in now?
Edinburgh, Scotland.
23. This question still counts, even for those of you who are under age. Check it out. You have been eternally banned from every single bar in the world except for ONE. Which one is it gonna be?
The Fenix Underground in Seattle's Pioneer Square.
24. Hopefully you didn't mention this in the super-powers question.... If you did, then we'll just expand on that. Check it out... Suddenly, you have gained the ability to FLOAT!!! Whose house are you going to float to first, and be like "Dude, check it out... I can FLOAT!"?
Why is it every meme has to have one question that's so frickin' stupid you regret having started the meme in the first place? If I must answer, I'd FLOAT over the car of somebody I dislike strongly and take a crap in the middle of their hood. Then I could say "DUDE! Check it out... I can FLOAT!"
25. The constant absorption of magical moonbeams mixed with the radioactive vegetables you consumed earlier has given you the ability to resurrect the dead famous-person of your choice. So which celebrity will you bring back to life?
Avitable totally nails this one with Phil Hartmann but, to be different, I'd have to say James Clavell, my favorite author. I'd love to have another book in his "Asia Saga."
26. The Gates of Hell have opened, and Death appears. As it turns out, Death is actually a pretty cool entity, and happens to be in a fantastic mood. Death offers to return the friend/family-member/person, etc. of your choice to the living world. Who will you bring back?
Having my best friend back would be nice.
27. What's your theme song?
Nothing, by Depeche Mode.
And now, because my dilated eyes are still buggin', I'm off to a dark place so I can take a nap.