The coolest thing about having a blog is the lovely death threats you get just for stating your opinion.
Well, in this case, it's not actually a "threat" per se... it's more like harsh tongue lashing without the benefits such an activity might normally involve.
And I owe it all to Tony Danza.
Not Tony Danza personally, but a Tony Danza fanatic who decided to write to me after reading my comments on his talk show. I would never have guessed that Tony was capable of having such a rabid fan base, so naturally I have come to the conclusion that Tony Danza has some kind of demonic mind-control powers. And now his evil minions are hunting down anybody who would dare speak out against their diabolical overlord.
So now I wonder... mild-mannered talk show host, or hellspawn sent to destroy us all?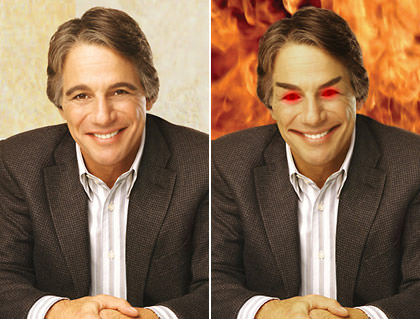 Apparently the wrath I've incurred is due to The Tony Danza Show being pulled from some key markets like New York and Philadelphia. According to the email I got, horrible people like me "have poisoned people against Tony and created a negative energy to destroy a wonderful show that brings happiness to millions of people". She drives her point home by closing her email with "God bless Tony Danza and I hope you die!".
= Sob! =
Did you see that? She wants me dead! Between this wack-job and Pat Robertson, I don't think any of us are safe. If no new Blogography entries are forthcoming and I should mysteriously disappear... now you'll know why. Tony Danza finally got me.
What a way to go.
BLOGOGRAPHY FLASHBACK ENTRY: Dave Approved: Crest
BLOGDATE: August 28, 2004

In which Dave discovers the toothpasty goodness of Crest Whitening Expressions and comes up with a great idea for breakfast.
Click here to go back in time...