Okay. For everybody who became gravely concerned about Jose from yesterday's entry, I called back his parole officer and let her know that she had left her message at the wrong number. She promised to get ahold of him at school, so I think everything will be okay. Who you should really be concerned about is me, because I still consider it to be a small miracle that I didn't have an immediate nervous breakdown after receiving a voicemail that started out with "this is your parole officer..." Given the state of my memory lately, I fully admit that it took a minute before I realized that it was a wrong number call. Time to start taking ginkgo biloba, I guess.
Anyway...
After a long absence, I've finally manage to get Audio Scrobbler installed on my new Mac Pro and Powerbook. For those not in the know, this is a piece of software that connects you with the wonderful Last.fm music site over the internet. This allows you to keep track of your music listening habits, find other users with music tastes similar to yours, discover new artists with music recommendations and much, much more. It is an amazing service that's totally FREE to use, or you can choose to pay a measly $3 a month for a bunch of cool extra features.
Just for fun, I've created a new "Last.fm Group" for Blogography readers so, if you use the service, feel free to join up...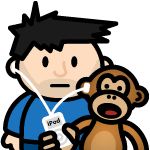 To see my Last.fm Music Profile, you can click here.
To see the Blogography Last.fm Group, you can click here.